News and Comment.
5th December 1907
Page 11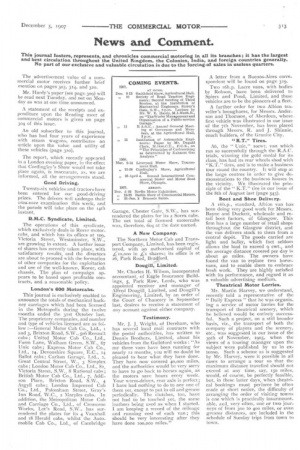 Page 12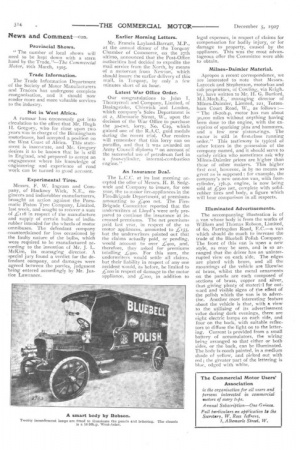 Page 11, 5th December 1907 —
News and Comment.
Close
This journal fosters, represents, and chronicles commercial motoring in all its branches; it has the largest and best circulation throughout the United Kingdom, the Colonies, India, and foreign countries generally. No part of our exclusive and valuable circulation is due to the forcingkof sales in useless quarters.
The advertisement value of a consinerciaI motor receives further brief mention on pages 303, 314, and 320.
Mr. Hardy's paper (see page 309) will be read next Tuesday, and not on Monday as was at one time announced.
A statement of the receipts and expenditure upon the Reading meet of commercial motors is given on page 304 of this issue.
An old subscriber to this journal, who has had four years of experience with steam wagons, contributes an article upon the value and utility of these vehicles (page 320).
The report, which recently appeared in a London evening paper, to the effect that Cordingley's Show would not take place again, is inaccurate, as, we are informed, all the arrangements stand.
Good Driving.
Twenty-six vehicles and tractors have been entered for our good-driving prizes. The drivers will undergo their viva-Does examination this week, and the parade will take place on the 14th instant, R.M.C. Syndicate, Limited.
The operations of this syndicate, which exclusively deals in Rover motor. cabs, and which has its offices at 109, Victoria Street, Westminster, S.W., are growing in extent. A further issue of shares has recently taken place, with satisfactory results, and the directors are about to proceed with the formation of other companies for the exploitation and use of the well-known, Rover, cab chassis. The plan of campaign appears to be based upon profitable contracts, and a reasonable policy.
London's 600 Motorcabs.
This journal is exclusively enabled to announce the totals of mechanical hackney carriages which had been licensed in the Metropolis during the twelve months ended the 3ist October last. The proprietary companies, and number and type of vehicles licensed are as follow :—General Motor Cab Co., Ltd., and 3, Brixton Road, S.W., 5o6 Renault cabs; United Motor Cab Co., Lid., Farm Lane, Walham. Green, S.W., 67 Unit.: cabs ; Express Motor Cab Co., Ltd., 14, Devonshire Square, E.C., 14 Ballot cabs ; Carlton Garage, Ltd., 2, Great Central Street, W., 3 Simplex cabs ; London Motor Cab Co., Ltd., 82, Victoria Street, S.W., 8 Rational cabs ; British Motor Cab Co., Ltd., 7, Addison Place, Brixton Road, S.W., 4 Argyll cabs; London Improved Cab Co., Ltd., Palcenharn Street, Gray's Inn Road, W.C., 2 Marples cabs. In addition, the Metropolitan Motor Cab and Carriage Co., Ltd., of Cremorne Works, Lot's Road, S.W., has surrendered the plates for its. 4 Va-uxhall and 18 Herald cabs, whilst the Auto_ mobile Cab Co., Ltd., of Cambridge Garage, Chester Gate, S.W., has surrendered the plates for its 2 Sorex cabs. The net total of licensed motorcabs was, therefore, 604 at the date named.
A New Company.
The Northern Motor Cab and Transport Company, Limited, has been registered, with an authorised capital of ,4'io,000 in shares; its office is at 26, Park Road, Bradford.
Dougill, Limited.
Mr. Charles H. Wilson, incorporated -accountant, Of Eagle Insurance Buildings, 5, Park Row, Leeds, who was appointed receiver and manager of Alfred Doug,ill, Limited, and Dougill's Engineering, Limited, by an order of the Court of Chancery in September last, desires to receive a statement of any account against either company.
Testimony.
Mr, 3. 3. Wright, of Dereham, who has several local mail contracts with the postal authorities, has written to Dennis Brothers, Limited, about his vehicles from the Guildford works : "As my three vans have been running for nearly 12 months, you will no doubt be pleased to hear what they have done. They have now covered 40,000 miles, and the authorities would be very sorry to have to go back to horses again, as the motors save hours every Week. Your worm-driven, rear axle is perfect; I have had nothing to do to any one of them yet, except to put in oil and grease periodically. The clutches, too, have not had to be touched yet, the same leathers being used as when I started. I am keeping a record of the mileage and running cost of each van ; this should be very interesting after they have done too,000 miles." A letter from a Buenos-Aires correspondent will be found on page 319.
Two t6h.p. Lacre vans, with bodies by Robson, have been delivered to Spiers and Pond, Limited, and these vehicles are to be the pioneers of a fleet.
A further order for two Albion traveller's broughams, for Messrs. Anderson and Thomson, of Aberdeen, whose. first vehicle was illustrated in our issue of the 7th November, has been placed through Messrs. R. and J. Shinnie, coach builders, of the Granite City.
"Ii.T." Tires.
A6, the " Uric," tocw.t. van which ran so successfully through the R.A.C. trials, winning the gold medal for its class, has had its rear wheels shod with "K.T." tires, and is to make a business tour round the country. It will stop at the large centres in order to give demonstrations to the business houses in the vicinity. We illustrated the principle of the " K.T." tire in our issue of the 8th of August last (page 543).
Boot and Shoe Delivcry.
A 16h.p., standard, Albion van has been doing very good work for Messrs. Bayne and Duckett, wholesale and retail boot factors, of Glasgow. This firm has a large number of retail shops throughout the Glasgow district, and the van delivers stock to them from a central depot. The goods carried are light and bulky, whichfact seldom allows the load to exceed 9 cwt., and the average distance covered per day is about 40 miles. The owners have found the van to replace two horsevans, and to enable them to embrace fresh work. They are highly satisfied with its performance, and regard it as a valuable advertising medium.
Theatrical Motor Lorries.
Mr. Martin Harvey, we understand, recently told a representative of the " Daily Express " that he was organising a service of motor lorries for the transport of theatrical scenery, which he believed would be entirely successful. Such a project, on a still broader basis, viz., the transport of both the company of players and the scenery, etc., was suggested in our issue of the 3oth of November, 1905, when the views of a touring manager upon the subject were published by us in extense. Such a scheme as is suggested by Mr. Harvey, were it possible in all cases to arrange a tour so that the maximum distance travelled should not exceed at any time, say, 15o miles, would, of course, be perfectly feasible, but, in these latter days, when theatrical bookings must perforce be often made at short notice, the difficulty of arranging the order of visiting towns is one which is practically insurmount_ able, and, very often, one or two journeys of from 300 to 400 miles, or even greater distances, are included in the schedule of Sunday trips from town to town. Pirovincial Shows.
"The number of local shows will need to he kept down with a stern hand by the Trade."—The Commercial Motor, 3.6th March, 1905.
Trade Information.
The Trade Information Department of the Society of Motor Manufacturers .and Traders has undergone complete reorganisation, and it should now .render more and more valuable services to the industry.
Not in West Africa.
A rumour has erroneously got into .circulation to the effect that Mr, Hugh II. Gregory, who for close upon two years was in charge of the Birmingham motorbuses, had accepted a position on the West Coast of Africa. This statement is inaccurate, and Mr. Gregory desires it to be known that he is still in England, and prepared to accept an -engagement where his knowledge of .engineering and experience of road work can be turned to good account,
Experimental Tires.
Messrs. F. W. Ingram and Company, of Hackney Wick, N.E., engineers and indiarubber manufacturers, brought an action against the Pneumatic Piston Tyre Company, Limited, last week, and sought to recover a sum of L-1 i8 in respect of the manufacture and supply of certain bulbs of indiarubber intended for the wheels of motor .ornnibuses. The defendant company .counterriaimed for loss occasioned by the faulty nature of the bulbs, which were required to be manufactured according to the invention of Mr. J. L. McKim, its managing director. A :special jury found a verdict for the defendant company, and damages were agreed between the parties, judgment 'being entered accordingly by Mr. Justice Lowrance.
Earlier Morning Letters.
Mr. Francis Layland-Barratt, M.P., at the annual dinner of the Torquay Chamber of Commerce, on the 27th ultimo, announced that the Post-Office authorities had decided to expedite the mail service from the North, by means of a motorvan from Newton, which should insure the earlier delivery of this mail, in Torquay, by only a few minutes short of an hour.
Latest War Office Order.
Our congratulations to John I. Thornycroft and Company, Limited, of Basingstoke, Chiswick and London, which company's Sales Department is at 2, Albemarle Street, W., upon the decision of the War Office to purchase the 3o-cwt. lorry, No. C19, which gained one of the R.A.C. gold medals during the recent trial. Our readers will remember that this lorry ran on paraffin, and that it was awarded an Army Council diploma " on account of the successful use of petroleum fuel in a four-cylinder, internal-combustion engine."
An Insurance Deal.
The L.C.C. at its last meeting accepted the offer of Messrs. H. B. Sedgwick and Company to insure, for one year, the to motor tire-appliances in the Fire-Brigade Department, at premiums amounting to 4.400 net. The FireBrigade Conunitteti reported that the underwriters at Lloyd's were only prepared to continue the insurance at increased premiums. The net premiums paid last year, in respect of the io motor appliances, amounted to Z1-55, but the underwriters pointed out that the claims actually paid, or pending, would amount to over £400, and, therefore, they asked for premiums totalling ;6400. For this sum, the underwriters would settle all claims, but their liability in respect of any one accident would, as before, be limited to
in respect of damage to the motor appliance, and -rioo, in addition to legal expenses, in respect of claims for compensation for bodily injury, or for damage to property, caused by the appliance. This was the most advantageous offer the Conunittee were able to obtain.
Milnes.-Daimler Material.
Apropos a recent correspondence, we are interested to note that Messrs. Laycock and Stephenson, motorbus and cab proprietors, of Cowling, via Keigh.. Icy, have written to Mr. IL G. Burford, M.I.Mech.E., • managing director of Milnes-Daimler, Limited, 221, Tottenham Court Road, W., as follows :— " The 18-20h.p. motor has run about 30,000 miles without anything having been done to the engine, with the exception of sparking pins and hammers, and a few new piston-rings. The motor is still in first-class running order," This testimony is typical of other letters in the possession of the company named, and it should serve to satisfy critics who sometimes ask why Milnes-Daimler prices are higher than those of other makers. This higher first cost, however, is by no means so great as is supposed : for example, the company's new one-ton van, with fourcylinder, 17h.p. engine, is now being sold at net, complete with solidrubber tires and body, a figure which will bear comparison in all respects.
Illuminated Advertisements.
The accompanying illustration is of a van whose body is from the works of William and Thomas Robson, Limited, of 6o, Farringdon Road, E.C.—a van which should do much to increase the trade of the Bluebell Polish Company. The front of this van is upon a new style, as may be seen, and is so arranged that the driver has an uninterrupted view on each side. The edges are plated with brass, and all the mountings of the vehicle are likewise of brass, whilst the metal ornaments on the panels are each composed of sections of brass, copper and silver, thus giving plenty of materirl for outward and visible signs of the effect of the polish which the van is to advertise. Another most interesting feature about the vehicle is that, with a view to the utilising of its advertisement value during dark evenings, there are eight electric lamps on each side, and four on the back, with suitable reflectors to diffuse the light on to the lettering. Current is provided from a small battery of accumulators, the wiring being arranged so that either or both sides, or the back, can be illuminated. The body is coach painted, in a medium shade of yellow, and picked out with red; the greater part of the lettering is blue, edged with white.