Passing Comments
5th August 1955
Page 30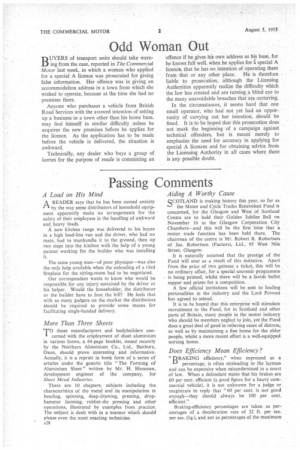 Page 31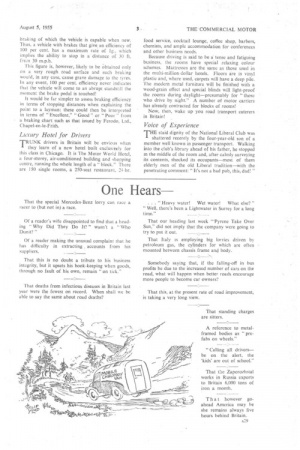 Page 30, 5th August 1955 —
Passing Comments
Close
A Load on His Mind
A READER says that he has been caused anxiety " by the way some distributors of household equipment apparently make no arrangements for the safety of their employees in the handling of aw,kward and heavy loads. A new kitchen range was delivered to his house in a high load-line van and the driver, who had no mate, had to manhandle it to the ground, then up two steps into the kitchen with the help of a young. painter working for the builder who was installing it.
The same young man—of poor physique—was also the only help available when the unloading of a tiled fireplace for the sitting-room had to be negotiated.
Our correspondent wants to know who would be responsible for any injury sustained by the driver or his helper. Would the householder, the distributor or the builder have to foot the bill? He feels that with so many gadgets on the market the distributors should be required to provide some means for facilitating single-handed delivery.
More Than Three Sheets
TO those manufacturers and bodybuilders con cerned with the employment of sheet aluminium in various forms, a 64-page booklet, issued recently by the Northern Aluminium Co., Ltd., Banbury, Oxon, should prove interesting and informative. Actually, it is a reprint in book form of a series of articles under the generic title "The Forming of Aluminium Sheet" written by Mr. H. Hinxman, development engineer of the company, for Sheet Metal Industries.
There are 10 chapters, subjects including the characteristics of the metal and its manipulation in bending, spinning, deep-drawing, pressing, drophammer forming, rubber-die pressing and other operations, illustrated by examples from practice. The subject is dealt with in a manner which should please even the most exacting technician. A28
Aiding A Worthy Cause
SCOTLAND is making history this year, so far as the Motor and Cycle Trades Benevolent Fund is concerned, for the Glasgow and West of Scotland Centre are to hold their Golden Jubilee Ball on November 16 in the Glasgow Corporation City Chambers—and this will be the first time that a motor trade function has been held there. The chairman of the centre is Mr. Robert R. Robertson of Jas. Robertson (Factors), . Ltd., 95 West Nile
Street, Glasgow. • It is naturally assumed that the prestige of the Fund will soar as a result of this initiative. Apart from the price of two guineas a ticket, this will be no ordinary affair, for a special souvenir programme is being printed, whilst there will be a lavish buffet, supper and prizes for a competition.
A few official invitations will be sent to leading personalities in the industry and the Lord Provost has agreed to attend.
It is to be hoped that this enterprise will stimulate recruitment to the Fund, for in Scotland and other parts of Britain, many people in the motor industry who should be members neglect to join, yet the Fund does a great deal of good in relieving cases of distress, as well as by maintaining a fine home for the older people, whilst a more recent effort is a well-equipped nursing home.
Does Efficiency Mean Efficiency?
"BRAKING efficiency," when expressed as a .1-/ percentage, is often misleading to the layman and can be expensive when misunderstood in a court of law. When a defendant states that his brakes are 60 per cent. efficient (a good figure for a heavy commercial vehicle), it is not unknown for a judge or magistrate to reply that "60 per cent. is not good enough—they should always be 100 per cent. efficient."
Braking-efficiency percentages are taken as percentages of a deceleration rate of 32 ft. per sec. per sec. (1g.), and xot as percentages of the maximum braking of which the vehicle is capable when new. Thus, a vehicle with brakes that give, an efficiency of 100 per cent, has a maximum rate of 1g., which implies the ability to stop in a: distance of 30 ft. from 30 m.p.h.
This figure is, however, likely to be obtained only on a very rough road surface and such braking would, in any case, cause grave damage to the tyres. In any event, 100 per cent, efficiency never indicates that the vehicle will come to an abrupt standstill the monient the brake pedal is touched!
it would be far simpler to assess braking efficiency in terms of stopping distances when explaining the point to a layman: these could then be interpreted in terms of "Excellent," "Good " or " Poor " from a braking chart such as that issued by Ferodo, Ltd., Chapel-en-le-Frith.
Luxury Hotel for Drivers
TRUNK drivers in Britain will be envious when
they learn of a new hotel built exclusively for this class in Chicago. It is The Motor World Hotel, a four-storey, air-conditioned building and shopping centre, running the whole length of a block." There are 150 single rooms, a 250-seat restaurant, 24-hr. food service, cocktail lounge, coffee shop, barbers, chemists, and ample accommodation for conferences and other business needs.
Because driving is said to he a tense and fatiguing business, the rooms have special relaxing colour schemes. Mattresses are the same as those used in the multi-million-dollar hotels. Floors are in vinyl plastic and, where used, carpets will have a deep pile. The modern metal furniture will be finished with a wood-grain effect and special blinds will light-proof the rooms during daylight—presumably for "those who drive by night." A number of motor carriers has already contracted for blocks of rooms!
Now, then, wake up you road transport caterers in Britain!
Voice of Experience
THE staid dignity of the National Liberal Club was shattered recently by the four-year-old son of a member well known in passenger transport. Walking into the club's library ahead of his father, he stopped in the middle of the room and, after calmly surveying its contents, shocked its occupants—most of them elderly men of the old Liberal tradition—with the penetrating comment: "It's not a bad pub, this, dad! "