Our Despatches from the Front (No. 47).
5th August 1915
Page 9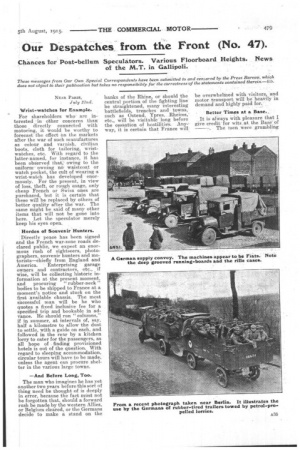 Page 10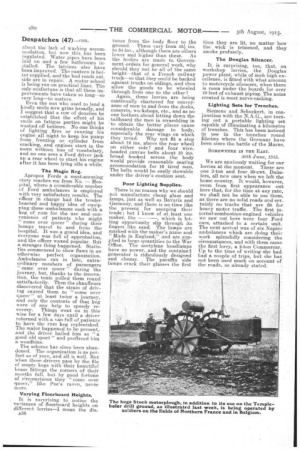 Page 9, 5th August 1915 —
Our Despatches from the Front (No. 47).
Close
Chances for Post-bellurn Speculators. Various Floorboard Heights. News of the M.T. in Gallipoli.
These messages from Our Own Special Correspondents have been submitted to and censored by the Press Bureau, which does not object to their pubh cation but takes no responsibility for the correctness of the statements contained therein.—ED.
NEAR Pmas,
July 22nd.
Wrist-watches for Example.
For shareholders who are interested -in other concerns than' those directly connected with motoring, it would be worthy to forecast the effect on the markets after the war of such manufactures as colour and varnish, civilian boots, cloth for tailoring, wristwatches, etc. With regard to the latter-named, for instance, it has been observed that;owing to the uniform-owning no waistcoat or watch pocket. the cult of wearing a wrist-watch has developed enormously. For the present, in view of loss, theft, or rough usage, only cheap French or Swiss ones are purchased, but it is certain that these will be replaced by others of better quality after the war. The same might be said of many other items that will not be gone into here. Let the speculator merely keep his eyes open.
Hordes of Souvenir Hunters.
Directly peace has been signed and the French war-zone roads declared public, we expect an enormous rush of sightseers, photographers, souvenir hunters and motorists—chiefly from England and America. Enterprising garage owners and contractors, etc., if wise, will be callecting historic information at the present moment, and procuring " rubber-neck " bodies to be shipped to France at a moment's notice and stuck on the first available chassis. The most successful man will be he who quotes a fixed inclusive fee for a specified trip and bookable in advance. He should run "columns," if in summer, at intervals of, say, half a kilometre to allow the dust to settle, with a guide on each, and followed in the rear by a kitchen lorry to cater for the passengers, as all hope of finding provisioned hotels is out of the question. With regard to sleeping accommodation, circular tours will have to be made, unless the agent can procure shelter in the various large towns.
—And Before Long, Too.
The man who imagines he has yet another two years before this sort of thing need be thought of is deeply in error, because the fact must not be forgotten that, should a forward rush be made by the western Allies, or Belgium cleared, or the Germans decide to make a stand on the banks of the Rhine, or should the central portion of the fighting line be straightened, many interesting battlefields, trenches and towns, such as Ostend, Ypres. Rheims,' etc., will be visitable long before the cessation of hostilities. Any-' way, it is certain that Trance will be overwhelmed with visitors, and motor transport will be heaVily in demand and highly paid for.
Bettcr Times at a Base., It is always with pleasure that I giVe.cmdit for wits.at the Base' of
. The men were grumbling about the lack of washing accommodation, but now this has been regulated. Water pipes have been laid on and •a few bathrooms installed. The latrines also have been improved. The canteen is better supplied, and the bad roads outside are in repair.. A motor school is being run on practical lines. The only misfortune is that all these improvements have taken so long—so very long—to mature.
Even the sun who used to lend a kindly smile now grins broadly, and I suggest that a row of douches be established that the effect of his smile on fatigue parties might be washed off betimes. No one thinks of lighting fires or running his engine all night to keep his pump from freezing or cylinder from cracking, and engines start in the morn without loss of vocabulary, and no one sees a Ford driver jack up a rear wheel to start his engine after it has been lying idle a while.
The Magic Keg.
Apropos Fords a most-amusing story reaches me from No. — Hospital, where a considerable number of Ford ambulances is employed with very satisfactory results. The officer in charge had the tenderhearted and happy idea of equipping these ambulances each with a keg of rum for the use and-convenience of patients who might " come over queer " during their bumpy travel to and from the hospital.. It was a grand idea, and everyone was full of approbation, and the officer waxed popular. But a stranger thing happened. Statistics commenced to show flaws in an otherwise perfect organization. Ambulances ran in late, extraordinary numbers of passengers " came over queer" during the journey, but, thanks to the innovation, the tonic pulled them round satisfactorily. Then the chauffeurs discovered that the strain of driving caused them to "come over queer" at least twic a journey, and only the contents of that keg were of any help to speedy recovery. Things went on in this wise for a few days until a driver returned with a van full of patients' to have the rum keg replenished. The major happened to be present, and the driver hailed him as " a good old sport" and proffered him a woodbine
The scheme has since been abandoned. The organization is as perfect as of yore, and all is well. But when those drivers pass by the file of empty kegs with their beautiful brass fittings the corners of their mouths fall, but by good fortune of circumstance they conic over queer," like Foes raven, never more.
Varying Floorboard Heights. It is surprising to notice the variances of floorboard heights on different lorries—I mean the disa36
tance from the body floor to the ground. These vary from 01 ins. to 54 ins., although there are others lower and 1-1'.gher than these. As the bodies are made to Government orders for general work, why should they not be all of the same height--that of a French railway truck—so that they could be backed against trucks on sidings, and thus allow the goods to be wheeled through from one to the other?. Again, these lorries are being continually chartered for conveyance of men to and from the docks, concerts, workshops, etc., and as no one bothers about letting down the tailboard the men in scrambling in ' to obtain the better places cause considerable damage to body, especially the rear wings on which they tread. Why not fit a step about 12 ins, above the rear wheel on either side? and four wirebeaded canvas belts about 10 ins. broad hooked across the body would provide reasonable seating accommodation for 16 tired men. The belts would be easily stowable under the driver's cushion seat.
Poor Lighting Supplies.
There is no reason why we should not manufacture cheap glass and lamps, just as well as Bavaria and Germany, and there is no time like the present for usurping their trade ; but I know of at ,least one maker, the , which is letting opportunity slip through its fingers like sand. The lamps are marked with the maker's name and " Made in England," and are supplied in large quantities to the War Office. The acetylene headlainps have no power, and. the contained generator is ridiculously designed and clumsy. The paraffin side lamps crack their glasses •the first
time they are lit, no matter how the wick is trimmed, and they smoke profusely.
The Douglas Silencer.
It is surprising, too, that, on workshop lorries, the Douglas power plant, while of such high excellence, is fitted with what amount to motorcycle silencers, when there is room under the boards for over 10 feet of exhaust piping. The noise created is most nerve-racking.
Lighting Sets for Trenches.
Siemens and Sehuckert, in conjunction with the N.A.G., are turning out a portable lighting set capable of illuminating a kilometre of trenches. This has been noticed in use in the trenches round Rheims where the Germans have been since the battle of the Marne.
SOMEWHERE IN THE EAST.
soth June, 1915.
We are anxiously waiting for our lorries at the moment. These are one 3-ton and four 30-cwt. Daimlers, all new ones when we left the home country. It would, however, seem from first appearance out here that, for the time at any rate, we shall not be able to use them, as there are no solid roads and certainly no tracks that are fit for heavy motor traffic. The first internal-combustion-engined vehicles we saw out here were four Ford cars, attached to a certain unit. The next arrival was of six Napier ambulances which are doing their work splendidly considering the circumstances, and with them came the first lorry, a 2-ton Commercar. Up to the time of writing she had: had a couple of trips, but she has not been used much on account of the roads, as already stated.