One Hears
5th August 1915
Page 3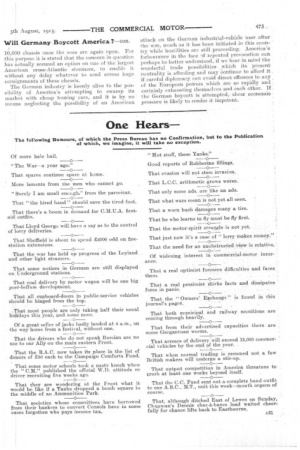 Page 3, 5th August 1915 —
One Hears
Close
The following Rumours, of which the Press Bureau has no Confirmation, but to the Publication of which, we imagine, it will take no exception.
Of more hale hail.
"The War—a year ago."
That spares continue spare at home.
32tore laments from the men who cannot go.
"Surely I am small encngh," from the parceicar.
That "the hired hand" should save the tired foot.
That there's a boom in demand for C.M.U.A. firstaid outfits.
That Lloyd George will have a say as to the control of lorry deliveries.
That Sheffield is about to spend ,E4000 odd on firestation extensions.
That the war has held up progress. of the Leyland and other light steamers.
That some notices in German are still displayed on Underground stations.
That coal delivery by motor wagon will be one big poe t-bell or development.
That all cupboard-doors in public-service vehicles should be hinged from the top.
That most people are only taking half their usual holidays this year, and some none.
Of a great seller of jacks badly landed at 4 a.m., on the way home from a festival, without one.
That the drivers who do not speak Russian are no use to our Ally on the main eastern Front.
That the R.A.C. now takes its place in the list of donors of 250 each to the Campaign Comforts Fund.
That some motor schools took a nasty knock when the " C.M." published the official W.D. attitude re driver recruiting five weeks ago.
That they are wondering at the Front what it would be like if a Taube dropped a bomb square in the middle of an Ammunition Park.
That. societies whose committees have borrowed from their bankers to convert Consols have in some cases forgotten who pays income tax. "Hot stuff, these Yanks."
Good reports of Rubberine fillings.
That evasion will not stem invasion.
That L.C.C. arithmetic grows worse.
That only some ads. are like an adz.
That what wars mean is not yet all seen.
That a worn bush damages many a tire.
That he who learns to fly must be fly first.
That the motor-spirit struggle is not yet.
That just now it's a case of "lorry makes money."
That the need for an unoloatructed view is relative. Of widening interest in commercial-motor insur ance.
That a real optimist foresees difficulties and faces them.
That a real pessimist shirks facts and dissipates force in panic.
That the "Owners' Exchange" is found in this journal's pages.
That both municipal and railway munitions are coming through heavily.
That from their advertised capacities there are some Gargantuan worms.
That arrears of delivery will exceed 13,000 commercial vehicles by the end of the year.
That when normal trading is resumed not a few British makers will undergo a stir-up.
That output competition in America threatens to crush at least one works beyond itself.
That the C.C. Fund sent out a complete band outfit to one A.S.C.. M.T., unit this week—mouth organs of course.
That, although ditched East of Lewes on Sunday, Chapman's Dennis char-k-banes load waited cheerfully for chance lifts back to Eastbourne.