No case to answer say respondents
5th April 1968
Page 46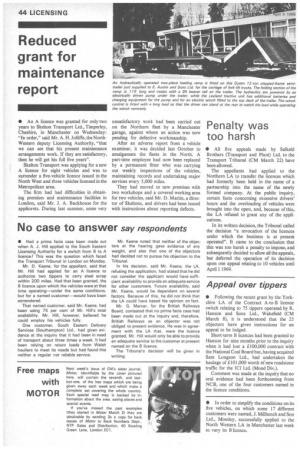 Page 46, 5th April 1968 —
No case to answer say respondents
Close
• Had a prima facie case been made out when A. J. Hill applied to the South Eastern Licensing Authority for a switch from B to A licence? This was the question which faced the Transport Tribunal in London on Monday.
Mr. D. Keene, for the appellant, said that Mr. Hill had applied for an A licence to authorize two tippers to carry steel scrap within 200 miles. Had that been granted, the B licence upon which the vehicles were at that time operating—under the same conditions. but for a named customer—would have been surrendered.
That named customer, said Mr. Keene, had been using 75 per cent of Mr. Hill's total availability. Mr. Hill. however, believed he could employ his vehicles fully.
One customer, South Eastern Delivery Services (Southampton) Ltd., had given evidence at the inquiry that it had been in need of transport about three times a week. It had been relying on return loads from Welsh hauliers to meet its needs but had found this neither a regular nor reliable service. Mr. Keene noted that neither of the objectors at the hearing gave evidence of any weight, and also that one of the objectors had decided not to pursue his objection to the Tribunal.
In his decision, said Mr. Keene, the LA, refusing the application, had stated that he did not consider the applicant would have sufficient availability to provide an adequate service for other customers. Future availability, said Mr. Keene, would be dependent on several factors. Because of this, he did not think that the LA could have based his opinion on fact.
Mr. G. Mercer, for the British Railways Board, contested that no prima facie case had been made out at the inquiry and, therefore, British Railways as an objector was not obliged to present evidence. He was in agreement with the LA that, were the licence granted, Mr. Hill would only be able to provide an adequate service to the customer at present named on the B licence.
The Tribunal's decision will be given in writing,