REMARKABLE CARBURETTER CLAIMS.—MR. HENRY STURMEY TELLS OF A NEW GAS-PRODUCER DEVICE.
4th September 1913
Page 5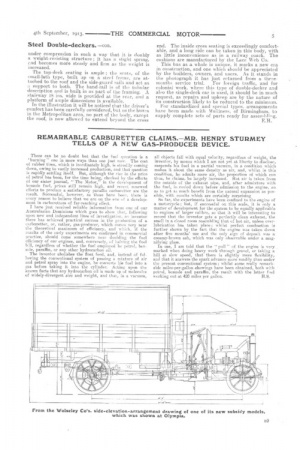 Page 5, 4th September 1913 —
REMARKABLE CARBURETTER CLAIMS.—MR. HENRY STURMEY TELLS OF A NEW GAS-PRODUCER DEVICE.
Close
There can be no doubt. but that the fuel question is a 'burning " one in more ways than one just now. The cost of rubber tires, which is inordinately high, is 6teadily coming down, owing to vastly increased production, and that question is rapidly settling itself. But, although the rise in the price of petrol has been, for the time being, checked by the efforts of our sieter journal, " The Motor," in the development of benzole fuel, prices still remain high. and recent renewed efforts to produce a. satisfactory paraffin carbmetter are the result. Successful, however, as these have been, there is every reason to believe that we are on the eve of a development in carburetters of far-reaching effect.
I have just. received reliable information from one of our Australasian Dominions which goes to show that, following upon new and independent lines of investigation, an inventor there has achieved practical success in the prodliction of a carburetter, or, rather, gas-producer, which comes very near the theoretical maximum of efficiency, and which, if the results of the early experiments are confirmed in commercial practice, should come somewhere near doubling the fuel efficiency of our engines, and, conversely, of halving the fuel regardless of whether the fuel employed be petrol, benzole, paraffin, or any other hydrocarbon oil.
The inventor abolishes the float feed, and, instead of following the conventional eystem of passing a mixture of air and petrol spray into the engine, he converts hie fuel into a gas before taking it into the cylinder. Acting upon the known facts that any hydrocarbon oil is made up of molecules of widely-divergent size and weight, and that, iii a vacuum, all objects fall with equal velocity, regardless of weight, the inventor, by means which I am not yet at liberty to disclose, suspends his fuel in a partial vacuum, in a condition which makes it about the same density as air, and, whilst in this condition, he admits more air, the proportion of which can thus, he claims, be largely increased. Hot air is taken from the outside of the exhaust pipe, and, after admixture. with the fuel, is, cooled down before admission to the engine, so as to get as much benefit from the natural expansion as possible, with results which are certainly surprising
So far, the experiments have been confined to the engine of a. motorcycle ; but, if succeeeful on this scale, it is only a matter of development for the system to be equally applicable to engines of larger calibre, so that it will be interesting to record that the inventor gets a perfectly clean exhaust, the smell in a closed room resembling that of hot air, unless overlubrication has taken place ; whilst perfect combustion is further shown by the fact, that the engine was -taken down after five months' use and the only sign of deposit was a creamy-brown ash, which was only observable under a magnifying glass. In use, I am told that the "pull " of the engine is very marked when doing heavy work through 'gravel, or taking a hill at slow speed, that there is slightly more flexibility, and that it answers the spark advance more readily than under the present conventional system; whilst, some really remarkable milee-per-gallon showings have been obtained, both with petrol, benzole and paraffin, the result with the latter fuel working out at 420 miles per gallon. H.S.