The Purchase Department.
4th September 1913
Page 47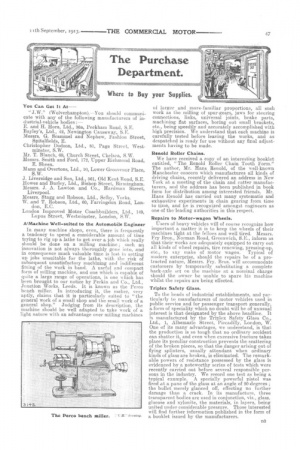 Page 47, 4th September 1913 —
The Purchase Department.
Close
Where to Buy your Supplies.
You Can Get It At- " J.W." (Wolverhampton).—You should communicate with any of the following manufacturers of industrial-vehicle bodies :— E. and H. bra, Ltd., 36a., Peckham Road, S.E. Bayley's, Ltd., 42, Newington Causeway, S.E. Messrs. G. Searamel and Nephew, Fashion Street, Spitalfields, E.
Christopher Dodson, Ltd., 81, Page Street, Westminster, S.W. Mr. T. Blanch, 69, Church Street, Chelsea, S.W. Messrs. Smith and Ford, 172, Upper Richmond Road, E. Sheen.
Mann and Overtons, Ltd., 10, Lower Grosvenor Place, S.W.
J. Liversidge and Son, Ltd.? 561, Old Kent Road, S.E. Howes and Burley, Ltd., Bishop Street, Birmingham. Messrs. J. A. Lawton and Co., Hardman Street, Liverpool.
Messrs. Stagg and Robson, Ltd., Selby, Yorks.
W. and T. Robson., Ltd., 60, Farringclon Road, London, E.C.
London Improved Motor Coachbuilders, Ltd., 149, Lupus Street, Westminster, London, S.W,
APMachine Well-suited to the Automobile Engineer
In many machine shops, even, there is frequently a tendency to spend a considerable amount of time trying to rig up a lathe to get over a job which really should be done on a milling machine ; such an innovation is not always thoroughly gone. Into, and an consequence much valuable time is lost in setting up jobs unsuitable for the lathe, with the risk of subsequent unsatisfactory machining and indifferent fitting of the work in hand. A useful and compact form of milling machine, and one which is capable of quite a large range of operations, is one which has been brought to our notice by Perkin and Co., Ltd., Junction Works, Leeds. It is known as the Perco bench miller. In introducing it., the maker, very aptly, claims that it is particularly suited to "the general work of a small shop and the small work of a general shop." Judging from its description, the machine should be well adapted to take work of a light nature with an advantage over milling machines of larger and more-familiar proportions, all such work as the milling of spur-gears, jaws for steering connections, links, universal joints, brake parts, machining flat surfaces, boring out small brackets, etc., being speedily and accurately accomplished with high precision. We understand that each machine is carefully tested before leaving the works, and as despatched is ready for use without any final adjustments having to be made.
Renold Roller Chains.
We have received a copy of an interesting booklet entitled, "The Renold Roller Chain Tooth Form." The author, Mr. Hans Renold, of the well-known Manchester concern which manufactures all kinds of driving chains, recently delivered an address in New York at a meeting of the chain and cutter manufacturers, and the address has been published in 'hook form for distribution among interested friends. Mr. Hans Remold has carried out many systematic and exhaustive experiments in chain gearing from time to time, and he is recognized amongst engineers as one of the leading authorities in this respect.
Repairs to Motor-wagon Wheels.
Users of heavy vehicles will of course recognize how important a matter it is to keep the wheels of their machines tight at the felloes and well tired. Messrs. Fry Bros., Norman Road, Greenwich, S.E., inform us that their works are adequately equipped to carry out all kinds of wheel repairs, tire renewing, pressing-up, etc., to any make of motor wagon. Typical of modern enterprise, should the repairs be of a protracted nature, Messrs. Fry. Bros. will accommodate customers by temporarily substituting a complete back-axle set on the machine at a nominal charge should the owner be unable to spare his machine whilst the repairs are being effected.
Triplex Safety Glass.
To the heads of industrial establishments, and particularly to manufacturers of motor vehicles used in public service and for passenger transport generally, a form of speciality which no doubt will be of unusual interest is that designated by the above headline. It is. manufactured by the Triplex Safety Glass Co., Ltd., 1, Albemarle Street, Piccadilly, London, W. One of its many advantages, we understand, is that the production is so tough that no ordinary accident can shatter it, and even when excessive fracture takes place its peculiar construction prevents the scattering of the broken pieces, so that the danger arising out of flying splinters, usually attendant when ordinary kinds of glass are broken, is eliminated. The remarkable powers of resistance possessed by the glass is evidenced by a noteworthy series of tests which were recently carried out before several responsible persons in the industry. We record one test as being a typical example. A specially powerful pistol was fired at a pane of the glass at an angle of 20 degrees ; the bullet merely glanced off, effecting no further damage than a crack. In its manufacture, three transparent bodies are used in conjunction, viz., glass, glucose and xylonite, the materials, in layers, being united under considerable pressure. Those interested will find further information published in the form of a booklet issued by the manufacturers.