Vienna' s Parcels-post Vans.
4th September 1913
Page 33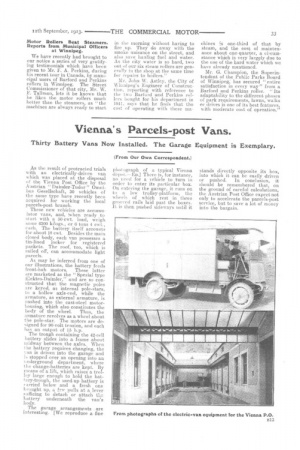 Page 33, 4th September 1913 —
Vienna' s Parcels-post Vans.
Close
Thirty Battery Vans Now Installed. The Garage Equipment is Exemplary.
(From Our Own Correspondent.) As the result of protracted trials with an electrically-driven van which was placed at the disposal of the Vienna. Post Office by the Austrian " Daimler-Tudor " Omnibus Gesellschaft, 30 vehicles of the same type have recently been acquired for working the local parcels-post branch.
These new vehicles are accumulator vans, and, when ready to start with a 50-cwt. load, weigh some 6300 Hogs., or 6 tons 4 cwt., each. The battery itself accounts for about 18 cwt. Besides the main closed body, each van possesses a tin-lined locker for registered packets. The roof, too, which is railed off, can accommodate light parcels.
As may be inferred from one of our illustrations, the battery feeds front-hub motors. These latter we marketed as the "Spezia' type Elektro-Daimler," and are so constructed that the magnetic poles are keyed, as internal pole-stars, to a hollow axle-end, while the armature, as external armature, is unshed into the cast-steel motorhousing, which also constitutes the body of the wheel. Thus, the armature revolves as a wheel about the pole-star. The motors are designed for 00-volt tension, and each hiss an output of 15 lisp. The trough containing the 42-cell battery slides into a frame about midway between the axles. When the battery requires changing, the van is driven into the garage and is stopped over an opening into an underground department, where the change-batteries are kept. By means of a lift, which raises a, trolley large enough to hold the batlery-trough, the used-up battery is carried below and a fresh one brought up, a few pulls at a lever sufficing to detach or attach tic battery underneath the van's body.
The garage arrangements are interesting. [We reproduce a fine pilot °graph of a typical Vienna depot.--ED1 There is, for instance, no need for a vehicle to turn in order to enter its particular box. On entering the garage, it runs on to a low trolley-platform, the wheels of which rest in three grooved rails laid past the boxes. It is then pushed sideways until it stands directly opposite its box, into which it can be easily driven or pushed. In conclusion, it should be remembered that, on the ground of careful calculations, the Austrian Post Office expect not only to accelerate the parcels-post service, but to save a lot of money into the bargain.