Weights and Taxes.
4th September 1913
Page 26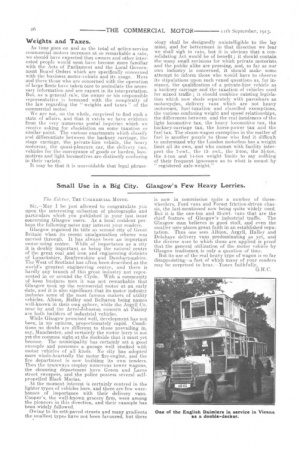 Page 26, 4th September 1913 —
Weights and Taxes.
Close
As time goes on and as the total of active-service commercial motors increases at so remarkable a rate, we should have expected that owners and other interested people would soon have become more familiar with the Acts of Parliament and the Local Government Board Orders which are specifically concerned with the business motor-vehicle and its usage. Here and there those who are concerned with the operation of large fleets have taken care to assimilate the necessary information and are expert in its interpretation. But, as a general rule, the owner or his responsible representative is bemused with the complexity of the law regarding the " weights and taxes" of the commercial motor.
We are not, on the whole, surprised to find such a state of affairs, and that it exists we have evidence from the very numerous postal inquiries which we receive asking for elucidation on some taxation or similar point. The various enactments which classify and differentiate between the hackney carriage, the stage carriage, the private-hire vehicle, the heavy motorcar, the quasi-pleasure car, the delivery van, vehicles for the conveyance of goods or burden, locomotives and light locomotives are distinctly confusing in their variety.
It may be that it is unavoidable that legal phrase ology shall be designedly unintelligible to the lay mind, and for betterment in that direction we fearwe shall sigh in vain, but it is obvious that a consolidating Act would be of benefit ; it should contain the many small revisions for which private motorists. and the public alike are pressing, and, so far as our own industry is concerned, it should make some attempt to inform those who would have to observe, its stipulations upon such vexed questions as, for instance, the qualification of a private-hire vehicle as. a hackney carriage and the taxation of vehicles used for mixed traffic ; it should combine existing legislation which now deals separately with parcelcars as. motorcycles, delivery vans which are not heavy motorcars, fuel-taxation and classified exemptions, the various confusing weight and speed relationships, the differences between and the real incidences of the light locomotive tax, the heavy locomotive tax, the hackney-carriage tax, the horse-power tax and the fuel tax. The steaniswagon exemption in the matter of fuel is another puzzle to those who find it difficult. tounderstand why the London motorbus has a weight limit all its own, and who cannot with facility interpret the 7-cwt., the 15cwt., the 2-ton, the 3,4-ton, the 5-ton and 14-ton weight limits to say nothing of their frequent ignorance as to what is meant by" registered axle-weight."