Small Use in a Big City. Glasgow's Few Heavy Lorries.
4th September 1913
Page 26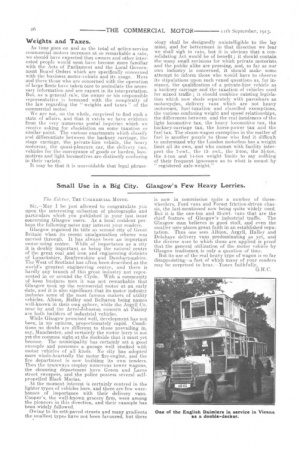 Page 26, 4th September 1913 —
Small Use in a Big City. Glasgow's Few Heavy Lorries.
Close
The Editor, THE COMMERCIAL MOTOR.
Sir,—May I be just allowed to congratulate you upon the interesting collection of photographs and particulars which you published in your last issue concerning Glasgow users, As a local resident perhaps the following notes may interest your readers.
Glasgow regained its .title as second city of Great Britain when its recent amalgamation scheme was carried through. It has always been an important motor-using centre. While of importance .as a city it is doubly important as being the natural centre of the great coal and iron and engineering districts of Lanarkshire, Renfrewshire and Dumbartonshire. The West of Scotland has often been described as the world's greatest engineering centre, and there is hardly any branch of this great industry not represented in or around the Clyde. With a community of keen business men it was not remarkable that Glasgow took up the commercial motor at an early date, and it is also significant that its motor industry includes some of the most famous makers of utility vehicles, Albion, Halley and Belhaven being names well-known in their own sphere, while the Argyll Co. near by and the Arrol-Johnston concern at Paisley are both builders of industrial vehicles.
While Glasgow promised well, development has not been, in my opinion, proportionately rapid. Conditions no doubt are different to those prevailing in, say, Manchester, and certainly the motor lorry is not yet the COT111/10n sight at the dockside that it must yet become. The municipality has certainly set a good example and possesses a garage well stocked with motor vehicles of all kinds. No city has adopted more whole-heartedly the motor fire-engine, and the fire department is now building its own tenders. Then the tramways employ numerous tower wagons, the cleansing department have Green and Lacre street sweepers, and the police possess several selfpropelled Black Marias.
At the moment interest is certainly centred in the lighter types of vehicles here, and there are few warehouses of importance with their delivery vans. Cooper's, the well-known grocery firm, were among the pioneers in this direction, and their example has been widely followed.
Owing to its sett-paved streets and many gradients the smallest types have not been favoured, but there is now in commission quite a number of threewheelers, Ford vans and Forest friction-driven chassis, the last-mentioned now being quite widely used. But it is the one-ton and 25-cwt. vans that are the chief feature of Glasgow's industrial traffic. The Glasgow man believes in good stuff, and even the smaller user places great faith in an established reputation. Thus one sees Albion, .Argyll, Halley and Delahaye delivery vans predominating as yet, and the diverse uses to which these are applied is proof that the general utilization of the motor vehicle by Glasgow tradesmen is only a question of time. But its use of the real heaty type of wagon is so far disappointing—a fact of which many of your readers may be surprised to hear.--Yours faithfully,