Results of the French Subsidy Trials.
4th September 1913
Page 16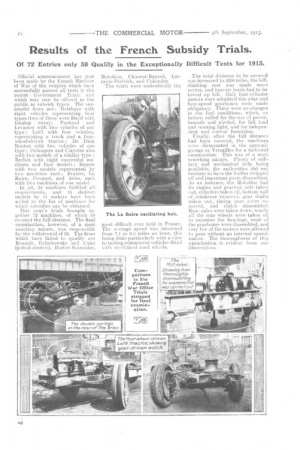 Page 16, 4th September 1913 —
Results of the French Subsidy Trials.
Close
Of 72 Entries only 58 Qualify in the Exceptionally Difficult Tests for 1913.
Official announcement has just been made by the French Mini-stt..)r of War of the vehicles Which have suceessftilly passed all tests in the recent; • -Government Trials tied which -May now be offered to the public as subsidy types. The successful firms are : Delahayit with eight vehiclesrepresenting four types (two of these wire fitted with
Dunlop tires); • -Panhay•d and Levass.or with two vehicles of one type ; Latil with four vehicles, representing a truck and a fourwheel-driven tractor ; De Dion Bouton with two vehicles of one type ; Delaugere and Clayette also with two models of a similar type ; Bernet with, eight. successful machines and four models ; Saurer with two models represented by two machines each ; Bra.sier, La Buire, Peugeot., and Aries, each with two machines of one model.
In all, 3B machines fulfilled all requirements, .and 19 distinct models by 11 makers have been added to the list of machines for which subsidies can be, obtained.
This year's trials brought together 72 machines, of which OS .covered the full distance. The final examination, however, of a most exacting nature, was responsible for the withdrawal of 30. The firms which have failed to qualify are Renault, Balachowsky and Caire (petrol-electric), Rochet-SAneider,
Motobloc, Clement-Bayard, Lorraine-Dietrich, and Cohendet.
The trials were undoubtedly the
most difficult ever held in France. The average speed was increased from 7A to 9.3 -miles an hour, this being done particularlywith a view to testing commercial vehicles fitted with steel-tired road wheels.
The total distance to be covered was increased to 2200 miles, the hillclimbing test was made M013 severe, and heavier loads had to be towed up hilt Only four-cylinder motors were admitted this year and four-speed gearboxes were made obligatory. There were no changes in the fuel conditions, which, as before, called for the use of petrol, benzole and alcohol, for full load and running light, and for independent and convoy formation.
Finally, after the full distance had been covered, the machine were • dismounted in the open-air garage at Versailles for a technical ex:I-initiation. This was of a most searching nature. Plenty of military and mechanical help being available, the authorities did not hesitate to have the bodies stripped off and important parts dissembled. As an instance, the Motobloe had its engine and gearbox unit taken out, cylinders taken off, bottom half of crankcase removed, gear shafts taken out, timing gear cover removed, and clutch dissembled. Rear axles were taken down, nearly all the rear wheels were taken off to examine the bearings, most of the gearboxes were dissembled, and very few of the motors were allowed to pass without an internal examination. The thoroughness of this examination is evident from our illustrations.