Welding a stationary boiler.
4th September 1913
Page 15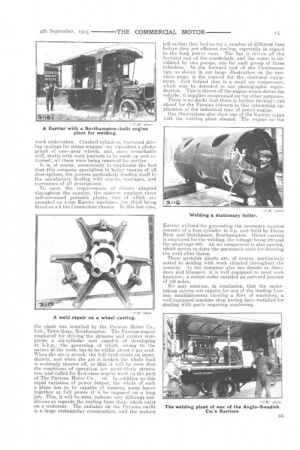 Page 15, 4th September 1913 —
Welding a stationary boiler.
Close
Karrier utilized for generating the necessary current consists of a four-cylinder 45 h.p. unit built by Dixon Bros. and Hutchinson, Southampton. Direct current is employed for the welding, the voltage being 100 and the amperage 200. An air compressor is also carried, which serves to drive the pneumatic tools for dressing the weld after fusion.
These portable plants are, of course, particularly suited to dealing with work situated throughout the country. As the company also has depots at Aberdeen and Glasgow, it is well equipped to meet such business ; a recent order entailed an outward journey of 159 miles.
We may mention, in conclusion, that the undertaking carries out repairs for one of the leading London establishments running a. fleet of machines, a well-equipped machine shop having been installed for dealing with parts requiring machining.