i A weld repair on a wheel casting.
4th September 1913
Page 15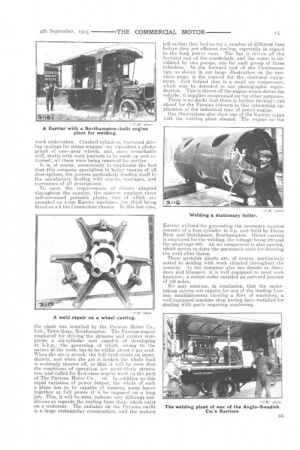 Page 15, 4th September 1913 —
i A weld repair on a wheel casting.
Close
the plant was installed by the Parsons Motor Co., Ltd., Town Quay, Southampton. The Parsons engine employed for driving the dynamo and exciter comprises a six-cylinder unit capable of developing 42 b.h.p., the governing of which, owing to the nature of the work, has to be within about 5 per cent. When the are is struck, the full load comes on immediately, and when the arc is broken the whole load is suddenly thrown off, so that it will be seen that the conditions of operation are particularly strenuous,'aod called for first-class engine work on the part of The Parsons Motor (3e.; td. In addition to this rapid variation of power 6utput, the whole of such a plant has to be capable of running many hours together at full power if it be engaged on a long job. This, it will be seen, induces very different con. ditions as regards the cooling from those which exist on a motorcar. The radiator on the Parsons outfit is a large rectangular construction, and the makers
tell us that they had to try a number of different fans before they got efficient cooling, especially in regard to the long power runs. The. fan is driven off the forward end of the crankshaft, and the water is circulated by two pumps, one for each group of three cylinders. At the forward end of the Comanercar van, as shown in our large illustration on the previous page, is the control for the electrical equipment. Just behind that is a small air compressor, which may be detected in our photographic reproduction. This is driven off the engine which drives the vehicle ; it supplies compressed air for other purposes.
There is no doubt that there is further develop;-,ient ahead for the Parsons concern in this interesting application of the industrial type of petrol engine.
Our illustrations also show one of the Karrier types with the welding plant. aboard. The engine on the