Out and Home.
4th September 1913
Page 12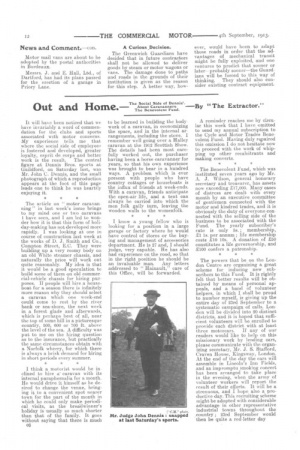 Page 12, 4th September 1913 —
Out and Home.
Close
The Social Side of Dennis'. About CaravannersThe Benevolent Fund.
By " The Extractor."
It will have been noticed that we have invariably a word of commendation for the clubs and sports associated with motor concerns. My experience tells me that where the social side of employees is fostered and developed, greater loyalty, esprit de corps and better work is the result. The central figure at Dennis Bros. sports at Guildford, on Saturday last, was Mr. John C. Dennis, and the small photograph of which a reproduction appears at the foot of this page leads one to think he was heartily enjoying it.
The article on " motor caravan. ning " in last week's issue brings to my mind one or two caravans I have seen, and I am led to wonder how it is that this form of holiday-making has not developed more rapidly. I was looking at one in course of construction last week at the works of D. J. Smith and Co., Compton Street, E.C. They were building up a very roomy body on an old White steamer chassis, and naturally the price will work out quite reasonably. My idea is that it would be a good speculation to build some of them on old commercial-vehicle chassis for hiring purposes. If people will hire a houseboat for a season there is infinitely more reason why they should select a caravan which one week-end could come to rest by the river bank or sea-shore, the next week in a forest glade and afterwards, which is perhaps best of all, near the top of some hill in a picturesque country, 500, 600 or 700 ft. above the level of the sea. A difficulty was put to me on the hiring question as to the insurance, but practically the same. circumstances obtain with a Norfolk wherry, for which there is always a brisk demand for hiring in short periods every summer.
I think a motorist would be inclined to hire a caravan with its internal paraphernalia for a month. He would drive it himself as he desired to change the venue, bringing it to a convenient spot nearer town for the part of the month in which he could only make periodical visits, as the breadwinner's holiday is usually so much shorter than that of the family. It goes without saying that there is much c6 to be learned in building the bodywork of a caravan, in economizing the space, and in the internal arrangements, including the stove. I remember well going over a Halley caravan at the 1912 Scottish Show. The details had been most carefully worked out, the purchaser having been a horse ca,ravanner for years, so that his own experience was brought to bear in a hundred ways. A problem which is ever present with people who have country cottages or houseboats is the influx of friends at week-ends. With a caravan, friends anticipate the open-air life, and a tent can always be carried into which the men folk gaily turn, leaving the wooden walls to the womenfolk.
I know a young fellow who is looking for a position in a. large garage or factory where he would have control of stores or the buying and management of accessories department. He is 27 and, I should judge, very capable. He has also had experience on the road, so that in the right position he should be an Invaluable man. Any letters addressed to " Hainault," care of this Office, will be forwarded. A reminder reaches me by circular this week that I have omitted to send my annual subscription to the Cycle and Motor Trades Benevolent Fund. Having duly repaired this omission I do not hesitate now to proceed with the work of whipping up other recalcitrants and making converts.
The Benevolent Fund, which was instituted seven years ago by Mr. A. J. Wilson, general honorary secretary and treasurer' has assets now exceeding 217,000. Many cases of distress are dealt with every month by an executive committee of gentlemen connected with the motor and kindred trades, and it is obviously the duty of everyone connected with the selling side of the business to be associated with the Fund. The yearly subscriber's rate is only Ss. membership, 21 is. oer annum; life membership costs 210 10s. A donation of £50 constitutes a. life governorship, and £100 confers a patronship.
The powers that be on the London Centre are organizing a great scheme for inducing new subscribers to this Fund. It is rightly felt that better results will be obtained by means of personal appeals, and a band of volunteer helpers, in which I shall be proud to number myself, is giving up the entire day of 23rd September to a systematic campaign of calls. London will be divided into 20 distinct districts, and it is hoped that sufficient volunteers will be enrolled to provide each district with at least
three motorcars. If any of our readers would like to help on this missionary work by lending cars, please communicate with the organizing secretary, Mr. J. S. Stafford, Craven House, Kingsway, London. At the end of the day the cars will assemble in Lincoln's Inn Fields, and an impromptu smoking concert has been arranged to take place in the evening, when the army of volunteer workers will report the result of their efforts. It will be a strenuous, and I hope also a productive day. This recruiting scheme might be adopted with considerable advantage in other representative industrial towns throughout the country ; 23rd September would then be quite a red-letter day