Men in the News
4th November 1939
Page 25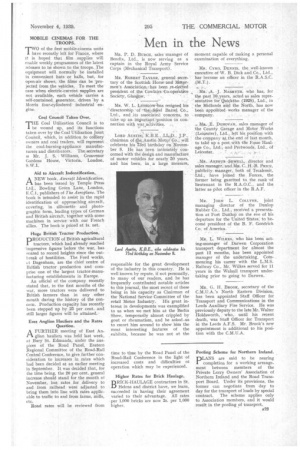 Page 25, 4th November 1939 —
Men in the News
Close
M. P. D. BURCH, sales manager of Bendix, Ltd., is now serving as a captain in the Royal Army Service Corps (Mechanical Transport).
MR. ROBERT TAYLOR, general secretary of the Scottish Horse and MOtprmen's Association;-has been .re-eIe4ed president of .the Cowlairs .Co-opetatitlie Society, Glasgow.
M. W. L. LITHDOW41aS resigned his directorship of 6-th4-Sfeel Barrel. Co., Ltd:, and its assoCiated concerns, to take up an important position in connection with war activities.
LORD AUSTIN, K.B.E.,LI., D J.P.. chairman of 4,11e, Austin Motor Go., will celebrate his 73rd birthday on November 8. He has been intimately concerned with the design and manufacture of motor vehicles for nearly 50 years, and has' been, in a large measure,
responsible for the great development of the industry in this country. He is well known by repute. if not personally, to many of our readers, and he has frequently contributed notable articles to this journal, the most recent of these being in his capacity as Chairman of the National Service Committee of the retail Motor Industry. His great interest in developments was exemplified to us when we met him at the Berlin Show, temporarily almost crippled by gout or rheumatism, and he asked-us to escort him around to show him the most interesting features of the exhibits, because he was not at the moment capable of making a personal examination of everything.
- MR, CYRIL DENNIS, the well-known executive of W. B. Dick and Co., Ltd., has become an officer in the R.A.S.C. (M.T.).
MR, "A.. J. NASMYTH, who has, for the past 10,years, acted as sales repre-sentative for quiektho (1928), Ltd., in the Midlands and the North, has now been appointed works manager of the company.
Ma,. "E. DONOVAN, sales manager of the Ccunty Garage and Motor Works (Leicester), Ltd., left his position with the company at the end of last month, to take up a post with tile Fosse Haulage Co., Ltd., and Pretwoods, Ltd., of Leicester.
MR. ARTNI/R SEWELL, director and sales manager, and MR. C H.-B. PRICE, publicity manager, both of Tecalemit, Ltd., have joined the Forces, the former being gazetted to the rank -of lieutenant in the R.A.O.C., and the latter aspilot officer in the R.A.F.
MR. JOHN L. COLLYER, joint managing director of the Dunlop Rubber Co., Ltd., received a presentation at Fort DuilloP on the eve of his departure for the United States, to become president of the B. F. Goodrich Co. of America.
MR. L. WILKES, who has been acting-manager of Darwen Corporation transport department for almost the past 12 months, has been appointed manager of the undertaking. Coinmencing his career with the L.M.S. Railway Co., Mr. Wilkes served for 11 years in the Walsall transport undertaking prior to going to Darwen.
Mn. G. H. BROOK, secretary of the C.M.IJ.A.'s North Eastern Division, has been appointed Staff Officer for Transport and Communications in the Leeds Auxiliary Fire Service. He was previously deputy to the late Mr. Walter Holdsworth, . who, until his recent death, was Staff Officer for Transport in the Leeds A.F.S. Mr. Brook's new appointment is additional to his position with the C.M.U.A.
Tags
People
:
G. H. BROOK
,
L. WILKES
,
B. PRICE
,
ROBERT TAYLOR
,
CYRIL DENNIS
,
Walter Holdsworth
,
JOHN L. COLLYER
,
R SEWELL
,
E. DONOVAN
,
J. NASMYTH
,
P. D. BURCH