Mobile Showroom with Cruising Speed of Over 60 m.p.h.
4th November 1938
Page 52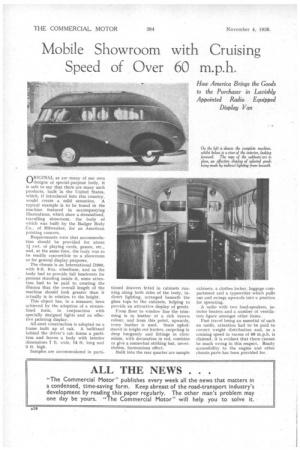 Page 52, 4th November 1938 —
Mobile Showroom with Cruising Speed of Over 60 m.p.h.
Close
How America Brings the Goods to the Purchaser in Lavishly Appointed Radio Equipped Display Van ORIGINAL as are many of our own designs of special-purpose body, it is safe to say that there are many such products, built in the United States, which, if introduced into this country, would create a mild sensation. A typical example is to be found in the machine featured in accompanying illustrations, which show a streamlined, travelling showroom, the body of which was built by the Badger Body Co., of Milwaukee, for an American printing concern.
Requirements were that accommodation should be provided for about cwt. of playing cards, games, etc., and, at the same time, the body was to be readily convertible to a showroom or for general display purposes.
The chassis is an International D300, with 9-ft. 9-in, wheelbase, and as the body had to provide full headroom for persons standing inside it, some attention had to be paid to creating the illusion that the overall length of the machine should look greater than it actually is in relation to the height.
This object has, in a measure, been achieved by the adoption of a streamlined form, in conjunction with specially designed lights and an effective painting display.
All-steel construction is adopted on a frame built up of oak. A bulkhead behind the driver's cab forms a partition and leaves a body with interior dimensions 7 ft. wide, 14 ft. long and Ii ft. high.
Samples are accommodated in parti
tioned drawers fitted in cabinets running along both sides of the body, indirect lighting, arranged beneath the glass tops to the cabinets, helping to provide an attractive display of goods.
From floor to window line the trimming is in leather of a rich brown colour, and from this point, upwards, ivory leather is used. Seats upholstered in bright red leather, carpeting in deep burgundy and fittings in chrdmium, with decoration in red, combine to give a somewhat striking but, nevertheless, harmonious effect.
Built into the rear quarter are sample cabinets, a clothes locker, luggage compartment and a typewriter which pulls out and swings upwards into a position for operating.
A radio with two loud-speakers, interior beaters and a number of ventilators figure amongst other items.
Fast travel being an essential of such an outfit, attention had to be paid to correct "weight distribution and, as a cruising speed in excess of 60 m.p.h. is claimed, it is evident that there cannot be much wrong in this respect. Ready accessibility to the engine and other chassis parts has been provided for.