Observations from the Warehousing and Removal Industry
4th November 1932
Page 48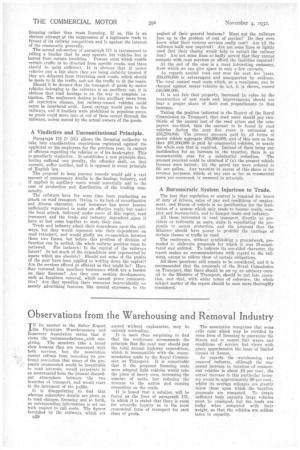 Page 48, 4th November 1932 —
Observations from the Warehousing and Removal Industry
Close
I N its answer to the Salter Report the Furniture Warehousemen and Removers Association states that it views the recommendations with misgiving. The members take a broad view becanse they are concerned with both services, but the association cannot refrain from recording its profound conviction that many of the proposals enumerated would be inequitable to road interests, would perpetrate in an accentuated form the present discordant atmosphere between the two branches of transport, and would react to the detriment of the public.
It is disappointing to find that whereas exhaustive details are given as to road charges, licensing and so forth, no corresponding information is set out with respect to rail costs. The figures furnished by the railways, which are quoted without explanation, may be entirely misleading.
It is more than surprising to find that the conference recommends the principle that the road user should pay the total annual highway expenditure, which is incompatible with the recommendation made by the Royal Commission on Transport. It is conceivable that if the proposed licensing scale were adopted light vehicles would take the place of heavy ones, increasing the number of units, but reducing the revenue to the nation and causing congestion on the roads.
It is hoped that a solution will be found on the lines of paragraph 131, in which it is stated that there is room for scientific inquiry as to the most economical form of transport for each class of goods. The association recognizes that some evils exist which may be rectified by some form of licensing to guarantee the fitness and to ensure fair wages and conditions of service, but views with grave apprehension the issue of limited classes of licence.
As regards the .warehousing and removal industry, although the suggested increase in taxation of commercial vehicles is about 10 per cent., the actual increase to this particular industry would be approximately 60 per cent., whilst its average mileages are greatly below those upon which the taxation proposals are computed. To obtain sufficient body capacity large vehicles must be employed, but the loads are :bulky when compared with their weight, so that the vehicles are seldom laden to capacity.