Scammell 3-ton Outfit Announced
4th November 1932
Page 43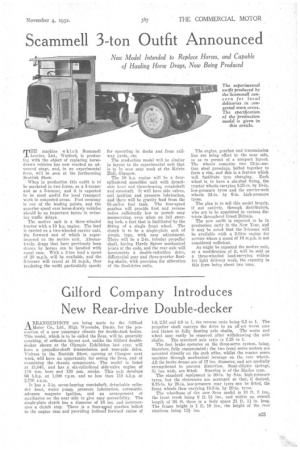 Page 43, 4th November 1932 —
Scammell 3-ton Outfit Announced
Close
New Model Intended to Replace Horses, and Capable of Hauling Horse Drays, Now Being Produced
MEE machine which Scammell Lorries, Ltd., Watford, is producing with the object of replacing horsedrawn vehicles has now reached an advanced stage, and, in an experimental form, will be seen at the forthcoming Scottish Show.
When in production this outfit is to be marketed in two forms, as a 3-tonner and as a 5-tonner, and it is expected to be most useful for local transport work in congested areas. Fuel economy is one of the leading points, and the superior speed over horse-drawn vehicles should be an important factor in reducing traffic delays.
The motive unit is a three-wheeled tractor with a 10 h,p, engine. The load is carried on a two-wheeled carrier unit, the forward end of which is superimposed on the motive unit. Alternatively, drays that have previously been drawn by horses can be handled with equal ease. With a 3-ton load a speed of 20 m.p.h. will be available, and the 5-tonner will travel at 16 m.p.h., thus rendering the outfit particularly speedy for operating in docks and from railway yards, etc.
The production model will be similar in layout to the experimental unit that is to be seen next week at the Kelvin Hall, Glasgow.
The 10 1.1.,p. engine will be afourcylintlered monobloc unit with detachable head and three-bearing crankshaft and camshaft. It will have side valves, toil ignition and pressure lubrication, and there will be gravity feed from the 6i-gallon fuel tank. The four-speed gearbox will provide first and reverse ratios sufficiently low to permit easy manceuvring, even when on full steering lock, a fact that is facilitated by the fitting of a single front wheel. The clutch is to be a single-plate unit of simple type, with easy adjustment. There will be a 2-in, tubular propeller shaft, having Hardy Spicer mechanical joints at the ends, and the rear axle will incorporate a double-reduction drive, differential gear and three-quarter floating shafts, with provision for alteration of the final-drive ratio.
The engine, gearbox and transmission line are being offset to the near side, so as to permit of a compact layout. The wheels comprise two 12-in.-section steel pressings, bolted together to form a rim, and this is a feature which will facilitate tyre changing. Each wheel is to have a six-stud fixing, the tractor wheels carrying 8.25-in. by 10-in. low-pressure tyres and the carrier-unit wheels 34-in. by 6-in, high-pressure tyres.
The plan is to sell this model largely, if not entirely, through distributors, who are to be appointed in various districts throughout Great Britain.
The new outfit is expected to be in production early in the New Year, and it may be noted that the 5-tonner will be available with a 2-litre engine for service where a speed of 16 m.p.h. is not considered sufficient.
As might be expected the motive unit, or a modification of it, will be sold as a three-wheeled load-carrying vehicle for light delivery work, the capacity in this form being about two tons.