MUNICIPAL PURCHASES AND PROPOSALS
4th November 1932
Page 42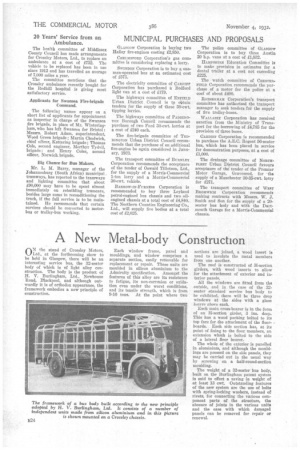 Page 42, 4th November 1932 —
MUNICIPAL PURCHASES AND PROPOSALS
Close
GLASGOW Corporation is buying two Halley fire-engines costing £2,850.
CH.ELMSFORD Corporation's gas committee is considering replacing a lorry.
Swrencee Corporation is to buy a oneman-operated bus at an estimated cost of £575.
The electricity committee of CARDIFF Corporation has purchased a Bedford light van at a cost of £179.
The highways committee of ENFIELD Urban District Council is to obtain tenders for the supply of three 30-cwt, tipping lorries.
The highways committee of PADDINGTON Borough Council recommends the purchase of two Ford 30-cwt. lorries at a cost of £240 each.
The fire-brigade committee of TEDDINGTON Urban District Council recommends that the purchase of an additional fire-engine be again considered in January, 1933.
The transport committee of BURNLEY Corporation recommends the acceptance of the tender of Oswald Tillotson, Ltd., for the supply of a Morris-Commercial 1-ton lorry and a Morris-Commercial 30-cwt. vehicle.
Bastecnv-IN-FraNEss Corporation is recommended to buy three Leyland petrol-engined bus chassis and two oilengined (heeds at a total cost of £4,840. The Northern Counties Engineering Co., Ltd., will supply five bodies at a total cost of £2,025.
The police committee of GLASGOW Corporation is to buy three Austin 20 h.p. vans at a cost of £1,532.
HAMPSHIRE Education Committee is to make provision in estimates for a dental trailer at a cost not exceeding £225.
The watch committee of CHESTER. FIELD Corporation recommends the purchase of a motor for the police at a cost of about £400.
ROTHERHAM Corporation's transport committee has authorized the transport manager to seek tenders for the supply of five trolley-buses.
WALLASEY Corporation has received sanction from the Ministry of Transport for the borrowing of £4,785 for the provision of three buses.
CARDIFF Corporation is recommended to purchase the A.E.C. Regent 56-seater bus, which has been placed in service for demonstration purposes, at a cost of £1,000.
The drainage committee of NoarerFLEET Urban District Council favours acceptance of the' tender of the Premier Motor Garage, Gravesend, for the supply of a Manchester 30-35-cwt. lorry for £271.
The transport committee of WEST Baokrwicn Corporation recommends making contracts with Messrs. W. J. Smith and Son for the supply of a 20seater bus body and with the Dartmouth Garage for a Morris-Commercial chassis.