20 Years' Service from an Ambulance.
4th November 1932
Page 42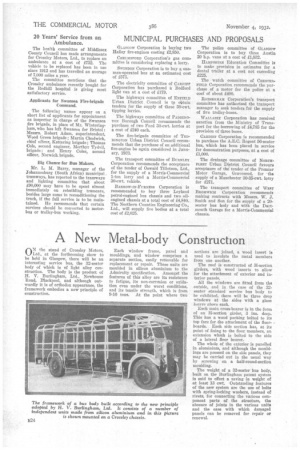 Page 42, 4th November 1932 —
20 Years' Service from an Ambulance.
Close
Keywords :
The health committee of Middlesex County Council has made arrangements for Crossley Motors, Ltd., to replace an ambulance at a cost of £732. The vehicle to be replaced has been in use since 1912 and has travelled an average of 7,000 miles a year.
The committee mentions that the Crossley ambulance recently bought for the Redhill hospital is giving most satisfactory service.
Applicants for Swansea Fire-brigade Command.
The following names appear on a short list of applicants for appointment as inspector in charge of the Swansea fire brigade, in place of Mr. Winteringham, who has left Swansea for Bristol : Messrs. Robert Adam, superintendent, Wood Green brigade; Martin Chadwick, chief officer, Kettering brigade; Thomas Cole, second engineer, Merthyr Tydvil, brigade; and Henry Coles, second officer, Norwich brigade.
Big Chance-for Bus Makers.
Mr. L. M. Barry, manager of the Johannesburg (South Africa) municipal. tramways, has reported to the tramways and lighting committee that about £90,000 may have to be spent almost immediately on rebuilding tramcars, besides large sums in reconditioning the track, if the full service is to be maintained. He recommends that certain services should be converted to motorbus or trolley-bus working.