Stop Railway Undercutting
4th November 1932
Page 35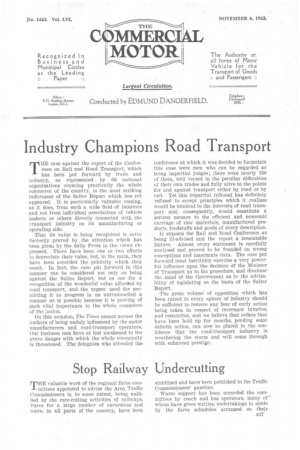 Page 36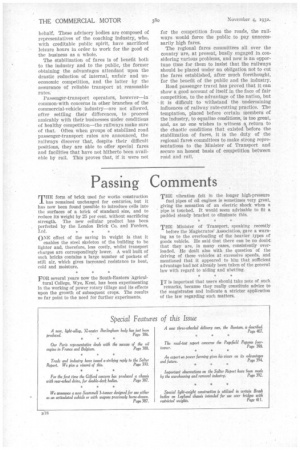 Page 35, 4th November 1932 —
Stop Railway Undercutting
Close
THE valuable work of the regional fares coin-mittees appointed to advise the Area Traffic Commissioners is, to some extent, being nullified by the rate-cutting activities of railways. Pares for a large number of excursions and tours, in all parts of the country, have been stabilized and have been published in the Traffic Commissioner's' gazettes.
Warm support has been accorded the committees by coach and bus operators, many of whom have given written undertakings to abide by the fares schedules arranged on their behalf. These advisory bodies are composed of representatives of the coaching industry, who, with creditable public spirit, have sacrificed leisure hours in order to work for the good of the business as a whole.
The stabilization of fares is of benefit both to the industry and to the public, the former obtaining the advantages attendant upon the drastic reduction of internal, unfair and uneconomic competition, and the latter by the assurance of reliable transport at reasonable rates.
Passenger-transport operators, however—in common•with concerns in other branches of the commercial-vehicle industry—are not allowed, after settling their differences, to proceed amicably with their businesses under conditions of healthy competition—the railways make sure of that. Often when groups of stabilized road passenger-transport rates are announced, the railways discover that, despite their difficult positions, they are able to offer special fares. and facilities that have not hitherto been available by rail. This proves that, if it were not for the competition from the roads, the railways would force the public to pay unnecessarily high fares.
The regional fares committees all over the country are, at present, busily engaged in considering various problems, and now is an opportune time for them to insist that the railways should be placed under an obligation not to cut the fares established, after much forethought, for the benefit of the public and the industry.
Road passenger travel has proved that it can show a good account of itself in the face of fair competition, to the advantage of the nation, but It is difficult to withstand the undermining influences of railway rate-cutting practice. The temptation, placed before certain members of the industry, to equalize conditions, is too great, and, as no one wishes to witness a, return to the chaotic conditions that existed 'before the stabilization of fares, it is the duty of the regional fares committees to make strong representations to the Minister of Transport and secure an honest basis of competition between road and rail.