Fleet Renewal at Low. Cost
4th April 1952
Page 43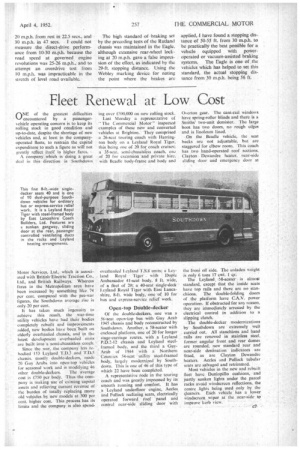 Page 43, 4th April 1952 —
Fleet Renewal at Low. Cost
Close
ONE of the greatest difficulties encountered by a passenger. vehicle operating concern is to keep its rolling stock in good condition and up-to-date, despite the shortage of new vehicles and, at least in the companyoperated fleets, to restrain the capital expenditure to such a figure as will not greatly reflect itself in higher fares. .
A Company which is doing a .great deal in this direction is -Southdown Motor .Services.. Ltd., which is associated With British Electric Traction Co., Ltd., and British Railways. WhereaS fares in the Metropolitanarea have been increased by something like. 74 per cent. compared with the pre-war figures, the Southdown average rise is only-20 per cent.
It has taken much ingenuity to achieve this result, the war-time utility vehicles have had their bodies completely rebuilt and improvements added% new bodies have been built on elderly overhauled chassis, and in the latest development overhauled units are built into a semi,chassisless coach.
Since the war, the company has re-' bodied 153 Leyland T.D.3 and T.D.5 chassis, mostly double4leekers, made 20 Guy 'Arabs into Open-top vehicles for seasonal work and is modifying 46 other double-deckers. The average cost is 050 per body. .Thus the company is Making use of existing capital assets and relieving current revenue of the' burden of totally -.replacing many old vehicles by new models at 300 per cent. higher cost. This process has its limits and the 'company is also spend
ing over £500,000 on new rolling stock, Last Monday a representative of
The Commercial Motor" inspected examples of these new and converted vehicles at Brighton. They comprised a 26-seat touring coach with MiffingIon body on a Leyland Royal Tiger, this being one of 20 for coach cruises; a 35-seat, semi-chassisless coach, one of 20 for excursion and private .hire, with Beadle body-frame and body and overhauled Leyland T.S.8 units; a Leyland Royal Tiger . with Duple Ambassador 41-scat body, 8 ft. wide, of a fleet of 20; a 40-seatsingle-deck Leyland Royal Tiger with East Lancashire, 8-ft. wide bofiy, one of 10 for has and express-service. relief work.
Open-top Double-decker
Of the doubledeckers, one was a 56-seat open-top bus with Guy Arab 1945 chassis and body reconstructed by Southdown. Another, a 58-seater with enclosed platform, one of 20 for longer stage-carriage routes, vvidi a Leyland P.D2-12 chassis and Leyland steelframed body, and the third a GuyArab of 1944 with a Northern Counties 54;scat utility steel-framed body, largely modernized by Southdown. This is one of 46 of this type of which' 22 have been completed. .
A representative rode in the touring Coach and was greatly impressed by its smooth running and comfort. It has a Leyland underfloor engine, Accles and Pollock' reclining seats, electrically operated forward roof panel and central near-side 'sliding door, with Overton gear. The cant-rail windows have spring-roller blinds and there is a Smiths' two-unit demister. The large boot has two doors, no rough edges and is linoleum lined.
On the. Beadle vehicle, the seat backs are not adjustable, but are staggered for elbow room. This coach has two hand-operated roof sections, Clayton . Dcwandre heater, near-side sliding door and emergency door at the front off side. The unladen weight is only 6 tons 17 cwi...1 or.
The Leyland, .58-seater is almost standard, except that the inside seats have top rails and there are no stanchi MS. The double-folding doors of the platform have C.A.V. power operation: If obstructed for any reason, they are immediately arrested by the electrical control in addition to a
slipping clutch. r
The double-decker modernizations by Southdown are extremely well carried out. All stanchions and hand rails are renewed in stainless steel, former angular front and rear domes are rounded, new standard rear and near-side destination indicators are titled, as are Clayton Dewandre heaters. Accles and Pollock tubular seals are salvaged and retrimmed. Most vehicles in the new and rebuilt fleet have Dunlopillo cushions, and Partly sunken lights under the parcel racks avoid windscreen reflections, the centre. lights being used only by the cleaners. Each vehicle. has a lower windscreen wiper at the near-sideto improve kerb view.