AN OPINION OF THE E1000 PRIZE FOR GAS INVENTION.
4th April 1918
Page 20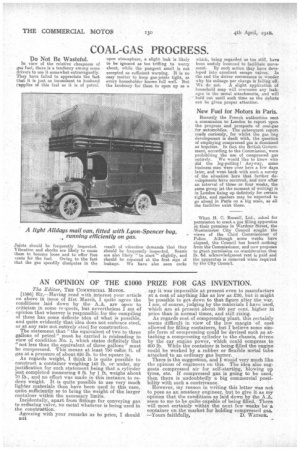 Page 20, 4th April 1918 —
AN OPINION OF THE E1000 PRIZE FOR GAS INVENTION.
Close
The Editor, THE COMMERCIAL Moron. [1596] Sir,—Having read with interest your article on above in issue of 21st March, I quite agree the conditions laid down by the A.A. are open to criticism in some reipects, but nevertheless I am of opinion that whoever is responsible for the compiling of these has some definite idea of what is possible, and quite evidently that idea does not embrace steel, or at any rate not entirely steel for construction. The statement that "the equivalent of two to three gallons of petrol" must be carried is misleading in view of condition No. 1, which states definitely that "not less than the equivalent of three gallons" must be compressed. .This means at least 750 cubic ft. of gas at a pressure of about 620 lb. to the square in.
_ As regards weight, I think it is quite possible to construct a container weighing 140 lb. or under, my justification for such statement being that a cylinder just completed measuring 6 ft. by 1 ft. weighs about 70 lb., and no effort was made in this instance, to reduce weight. It is quite possible to use very much lighter materials than have been used in this case, quite sufficiently so to bring the weight of the larger container within the necessary limits. Incidentally, apart from fittings for conveying gas to reducing valve, no metal whatever, is being used in the construetion.
Agreeing with your remarks as to price, I should 1344 spy it was impossible at present even to manufacture at a cost of anything like as low as 220, but it might be possible to get down to that figure after the war. I am, of course, judging by the materials I 'have used, which are at present about 300 per cent, higher in price than in normal times, and still rising. As regards cost of compressing plant, this certainly seems difficult in view of the low margin of cost allowed for filling containers, but I believe some simple form of compressing could be devised such as attaching a compressing cylinder to the chassis, driven by the car engine power, which could compress to 600 lb. While the container is being filled the engine could be worked by a rubber or flexible metal tube attached to an ordinary gas burner. There is the suggestion, and would very much like the opinion of engineers on this. The idea also suggests compressed air for self-starting, blowing up tyres, etc. If compressed gas is going to be used, then there is undoubtedly a big commercial possibility with such a contrivance.
However, my reason in writing this letter was not to pose as an amateur engineer, but to give it as my opinion that the conditions as laid down by the A.A. seem to me to be quite capable of being filled. There will most certainly within the next few weeks be a container on the market for holding compressed gas.'
—Yours faithfully, D. WATSON.