WHY NOT UTILIZE ARMY 1/VAGONS ?
4th April 1918
Page 17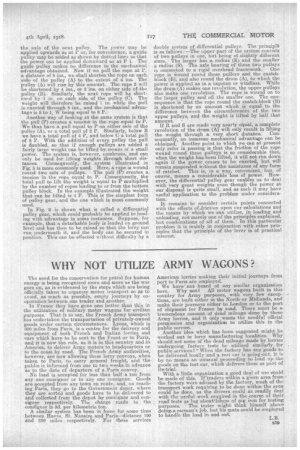 Page 17, 4th April 1918 —
WHY NOT UTILIZE ARMY 1/VAGONS ?
Close
The need for the conservation for petrol for human energy is being recognized more and more as the war goes on, as is evidenced by the steps which are being officially taken to organize motor transport so as to avoid, as ,rnuch as possible, empty journeys by cooperation between one trader and another. .
In France they have gone one better than this in the utilization of military motor wagons for civilian purposes. That is to say, the French Army transport has -undertaken the transportation of privately-owned goods under certain circumstances. Lyons, which is 300 miles from Paris, is a centre for the delivery and equipment of both French and Italian lorries and cars which have to be sent to the Front or to Paris, and it is now the rule, as it is in this country and in America, to deliver Army motors to headquarters or to the coast by road. The French Army authorities, however, are now allowing these lorry convoys, when taken to Paris, to carry general freight, and the public is informed from one to two weeks in advance as to the date of departure of a Paris convoy. No load is accepted for less than half a ton from any one consignor or to any one consignee. Goods are accepted from any town en route, and, on reaching Paris, they go to the GoVernment depot, where they are sorted and goods have to be delivered to arid collected from the depot by consignor and consignee respectively. The charge made to the consignor is 3d. per kilometric ton.
A similar system has been in force for some time between Havre, St. Nazaire and Paris—distance 120 and 250 miles respectively. For these services American lorries making their initial journeys from port to Paris are employed. We have' not heard of any similar organization here. Why mot-? All motor wagons built in this country for Army purposes, with very few exceptions, are built either in the North or Midlands, and make their journeys either to London or to the port of shipment for France by road. There must be a tremendous amount of dead mileage done by these Army lorries, and it only wants the needful official permission and organization to utilize this in the public service.
Another idea which has been suggested might be worked out in lorry manufacturing localities. Why I should not some of the dead mileage made by lorries. undergoing factorstests be utilized similarly for public services? "-When the factory has any goods to be delivered locally and a test car is goingamt, it is by no means an unusual proceeding to load up the Foods on the test car, which delivers them as part of itsttñal.
With a little organization a good deal of use could be 'made of this. If raders Within a given area from the factory were advised by the factory, much of the, transport work requiring to be done within the area could be done, as the drivers could as readily deal with the useful work required in the course of their road' tests as lug abontklumps of pig iron for testingi purposes. The tester might think himself above' doinga carman's job, but his mate could be employed. to handle the load in and oat.