300 de Dions for the Paris G.O.C.
4th April 1912
Page 9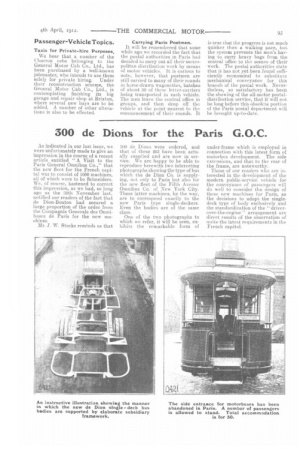 Page 9, 4th April 1912 —
300 de Dions for the Paris G.O.C.
Close
As indicated in our last issue, we were unfortunately made to give an impression in the course of a recent article entitled "A Visit to the Paris General Omnibus Co.," that the new fleet for the French capital was to consist of 1000 machines, all of which were to be Schneiders. We, of course, hastened to correct this impression, as we had, so long ago as the 30th November last, notified our readers of the fact that de Dion-Bouton had secured a large proportion of the order from the Compagnie Generale des Omnibuses de Paris for the new machines.
Mr. J. W. Stocks reminds us that
300 de Dions were ordered, and that of these 263 have been actually supplied and are now in service. We are happy to be able to reproduce herewith two interesting photographs showing the type of bus which the de Dion Co. is supplying, not only to Paris but also for the new fleet of the Fifth Avenue Omnibus Co. of New York City. These latter machines, by the way, are to correspond exactly to the new Paris type single-deckers. Even the bodies are of the same class.
One of the two photographs to which we refer, it will be seen, exhibits the remarkable form of under-frame which is employed in connection with this latest form of motorbus development. The side extensions, and that to the rear of the frame, are noteworthy.
Those of our readers who are interested in the development of the modern public-service vehicle for the conveyance of passengers will do well to consider the design of these new machines for Paris, as the decisions to adopt the singledeck type of body exclusively and the standardisation of the " driverover-the-engine " arrangement are direct results of the observation of (mite the latest requirements in the. French capital.