Out and H ome . —By The "Extractor."
4th April 1912
Page 14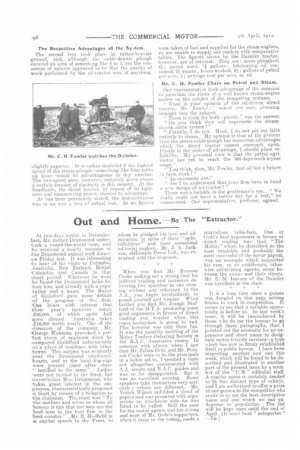 Page 14, 4th April 1912 —
Out and H ome . —By The "Extractor."
Close
Keywords :
At two-days notice in December last, Mr. Arthur Drummond undertook a round-the-world tour, and lie received a hearty welcome at the Drummond annual staff dinner ean Friday last. It was interesting to hear of his visits to Colombo, Australia, New Zealand,British Columbia and Canada in that ishort period. Wherever he went tie found the Drummond lathe beifore him, and already with a reputation and a name. The Mayor tof Guildford gave some details f the progress of the firm. One hears with interest that their year's turnover totals £35,000, of which quite half
oes abroad. Australia takes
10,000 worth yearly. One of the .directors of the company, Mr. George Hickman, provoked a perfect storm of applause when he compared Guildford unfavourably *s a place of residence with other towns. This subject was evidently .near the Drummond eninloyees' ilearts, and as the local big-wigs -were present cheer after cheer testified to the same." Ladies -were not invited to the feast, but tnevertheless Mrs. Drummond, who stakes great interest in the erngployeee, characteristically proposed in toast by means of a telegram to the chairman. The toast was " To -the mothers and wives to whom all 'horrour is due that our men are the best men in the best firm in the lest country." Mr. It. Hadfield in a, capital speech to the Press, to
whom he pledged his love and admiration, in spite of their " splitinfinitives" and their occasional editorial neglect. Mr. J. A. Jackson, of.Temple Press Ltd., was entrusted with the response.
When you find Mr. Stenson Cooke making out a strong case for indirect trading and moreover delivering two speeches in one evening without any reference to the A.A., you begin involuntarily to punch yourself and wonder. When further you find Mr. Joseph Stafford of the M.T.A. producing some good arguments in favour of direct trading you wonder when this topsy-turveydom is going to end. This however was only their fun. It was the monthly meeting of the Motor Traders Debating Society in the R.A.C. Associates rooms. In common with others, when I saw that Mr. Julian Orde and Mr. Stenson Cooke were to he the principals in a noble set-to, I scented a topic not altogether unconnected with A. A. scouts and R.A.C. guides and was so far disappointed. But it was an excellent evening. Some speakers take themselves very seriously ; others are different. Mr. Veitch Wilson unfolded a sheaf of papers and was prepared with arguments on whichever side he was fated to be called. Still the case for the motor agents was too strong and most of Mr. Orde's supporters, when it came to the voting, made a marvellous Nolte-face. One of Orde's best arguments in favour of direct trading was that "The Motor," which he described as the most readable and probably the most successful of the motor papers, was an example which supported his case, as no middlemen, otherwise advertising agents, came between the owner and their clients. Mr. E. M. Instone of the Daimler was excellent in the chair.
It is a long time since a guinea was dangled on this page setting brains to work in competition. It seems to me that a suitable opportunity is before us. In last week's issue, it will be remembered by those who do me the honour to go through these paragraphs, that I pointed out the necessity for an expressive and short name to designate motor-tricycle carriers—a type which has now so firmly established itself in public favour. I have been inspecting another new one this week, which will be found to be described • and illustrated in another part of the present issue by a member of the " C.M." editorial staff. A concise name is certainly needed to fit this distinct type o vehicle, and I sun authorized to offer a prize of one guinea to the competitor who sends in to me the best descriptive name • and one which we can endeavour to popularize. The list will be kept open until the end of April [It must beat " autoporter." —ED.]