News of the Week
3rd September 1948
Page 28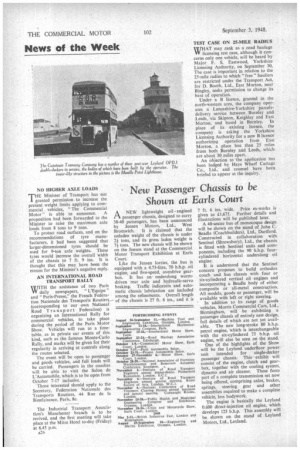 Page 29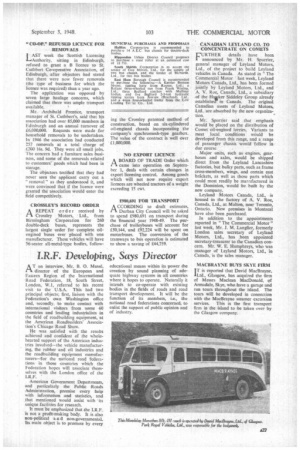 Page 30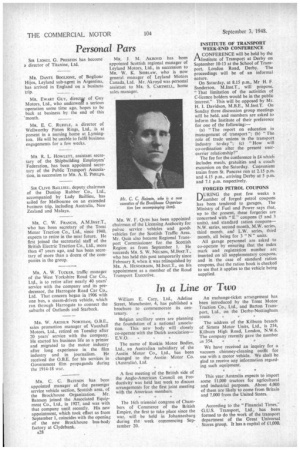 Page 31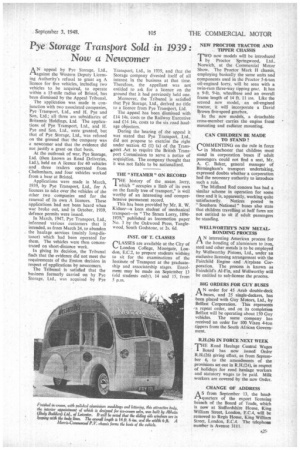 Page 32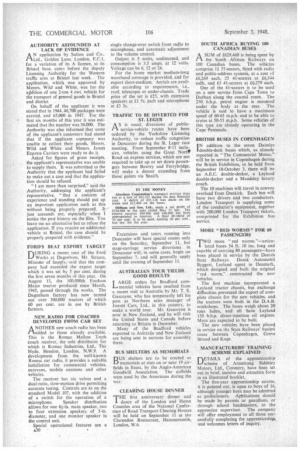 Page 28, 3rd September 1948 —
News of the Week
Close
NO HIGHER AXLE LOADS
THE Minister of Transport has not granted permission to increase the present weight limits applying to commercial vehicles, "The Commercial Motor" is able to announce. A proposition had been forwarded to the Minister to raise the maximum axle loads from 8 tons to 9 tons.
To protect road surfaces, and on the recommendations of tyre manufacturers, it had been suggested that larger-dimensioned tyres should be used for 9-ton axle weights. These tyres would increase the overall width of the chassis to 7 ft. 9 ins. It is thought that this may have been the reason for the Minister's negative reply.
AN INTERNATIONAL ROAD TRANSPORT RALLY
WITH the assistance of two Paris VII daily newspapers, " L'Equipe " and " Paris-Presse," the French Federation Nationale des Transports Routiers.-(corresponding to our own National Road Transport Federation) is organizing an International Rally for commercial vehicles, to take place during the period of the Paris Motor Show. Vehicles will run to a timetable, as in private car events of this kind, such as the famous Monte-Carlo Rally, and marks will be given for their regularity in arriving at controls along the routes selected.
The event will be open to passenger and goods vehicles, and full loads will be carried. Passengers in the coaches will be able to visit the Salon de L'Automobile, which is to be open from October 7-17 inclusive.
Those interested should apply to the Secretary, Federation Nationale des Transports Routiers, 44 Rue de la Bienfaisance, Paris, 8e.
The Industrial Transport Association's Manchester branch is to be revived, and the first meeting will take place at the Mitre Hotel to-day (Friday) at 6.45 p.m.
A26 TEST CASE ON 25-MILE RADIUS WHAT may rank as a road haulage VV licensing test case, although it concerns only one vehicle, will be heard by Major F. S. Eastwood, Yorkshire Licensing Authority, on September 30, The case is important in relation to the 25-mile radius to which " free " hauliers are restricted under the Transport Act, for D. Booth, Ltd., East Morton, near Bingley, seeks permission to change its base of operation.
Under a B licence, granted in the north-western area, the company operates a Lancashire-Yorkshire parcelsdelivery service between Burnley and Leeds, via Skipton, Keighley and East Morton, and based in Burnley. In place of its existing licence, the company is asking the Yorkshire Licensing Authority for a new B licence a uthoriziug operation from East Morton, a place less than 25 miles from both Burnley and Leeds, which are about 30 miles apart.
An objection to the application has been lodged by Hays Wharf Cartage Co., Ltd., and counsel have been briefed to appear at the inquiry. "CO-OP." REFUSED LICENCE -FOR REMOVALS
1 AST week the Scottish Licensing La Authority, sitting in Edinburgh, refused to grant a B licence to St. Cuthbert Co-operative Association, of Edinburgh, after objectors had stated that there were now fewer removals (the type of business for which the licence was required) than a year ago.
The application was opposed by seven large haulage concerns, which claimed that there was ample transport available.
Mr. Archibald Prentice, transport manager of St. Cuthbert's, said that his association had over 85,000 members in Edinburgh and an annual turnover of £6,000;000. Requests were made for household removals to be undertaken. In 1946 the association had conducted 257 removals at a total charge of £200 165. 9d. They were all small jobs. The concern had a furniture sales business, and some of the removals related to customers' goods which had been in storage.
The objectors testified that they had never seen the applicant carry out a " removal" as they understood it, and were convinced that if the licence were granted the association would enter the field competitively.
CROSSLEY'S RECORD ORDER
AREPEAT order received by Crossley Motors, Ltd., from Birmingham Corporation for 260 double-deck buses, represents the largest single order for complete oilengined buses ever placed with one manufacturer. These vehicles will have 56-seater all-metal-type bodies, follow
ing the Crossley patented method of construction, based on six-eylindered oil-eneined chassis incorporating the company's synchromesh-type gearbox. The value of the contract is well over £1.000,000.
NO EXPORT LICENCE
A BOARD OF TRADE Order which I-1 came into operation on September 1, deals with certain changes in export licensing control. Among goods which will not now require export licences are wheeled tractors of a weight exceeding 15 cwt.
080,691 FOR TRANSPORT
A CCORD1NG to draft estimates, ti Durban City Council will be asked to spend £980,691 on transport during the financial year 1948-49. The purchase of trolleybuses will account for £50,144, and 02,224 will be spent on motorbuses. The conversion of the tramways to burs operation is estimated to show a -saving of £44,759.
CANADIAN LEYLAND CO. TO CONCENTRATE ON COMETS
CURTI-IER details have been announced by Mr. H. Spurrier, general manager of Leyland Motors, Ltd., of the project to build Leyland vehicles in Canada. As stated in "The Commercial Motor last week, Leyland Motors Canada, Ltd., has been formed jointly by Leyland Motors, Ltd., and A. V. Roe, Canada, Ltd., a subsidiary of the Haigker Siddeley Group already established' in Canada. The original Canadian assets of Leyland Motors, Ltd.., are absorbed by the new organization.
Mr. Spurrier said that emphasis would be placed on the distribution of Comet oil-engined lorries. Variants to meet local conditions would be developed from this range, and a range of passenger chassis would follow in due course
Major units, such as engines, gearboxes and axles, would be shipped direct from the Leyland Lancashire factories, but bulky parts, such as frame cross-members, wings, and certain cast brackets, as well as those parts which could most readily be manufactured in the Dominion, would be Mutt by the new company.
Leyland Motors Canada, Ltd., is housed in the factory of A. V. Roe, Canada, Ltd., at Isfahan, near Toronto, Ontario. New premises in Montreal have also been purchased.
In addition to the appointments reported in "The Commercial Motor" last week, Mr. I. M. Langfier, formerly London sales secretary of Leyland Motors, Ltd., has been appointed secretary-treasurer to the Canadian concern. Mr. W. E. Humphreys, who was manager of Leyland Motors, Ltd., in Canada, is the sales manager.
MACBRAYNE BUYS SKYE FIRM
IT is reported that David MacBrayne, 'Ltd., Glasgow, has acquired the firm of Messrs Maclean MacDonald, of Armadale, Skye, who have a garage and run tours throughout the island. The tours will be developed in connection with the MacBrayne steamer excursion services. This ts the first transport firm in the island to be taken over by the Glasgow company.
INSTITUTE OF TRANSPORT WEEK-END CONFERENCE
ACONFERENCE will be held by the Institute of Transport at Derby on September 10-13 at the School of Transport, London Road, Derby. The proceedings will be of an informal nature.
On Saturday, at 8.15 p.m., Mr H. F. Sanderson, M.Inst.T., will propose, "That limitation of the activities of C-licence holders would be in the public interest." This will be opposed by Mr. H. I. Davidson, M.B.E., Minst,T. On Sunday three discussion group meetings will be held, and members are asked to inform the Institute of their preference for one of the following:—
(a) "The report on education in management of transport "; (b) "The role of trade unions in the transport industry to-day "; (c) "How will co-ordination alter the present usercarrier relationship?"
The fee for the conference is E4 which includes meals, gratuities and a coach excursion on the Saturday. Convenient trains from St. Pancras run at 2.15 p.m. and 4.15 p.m., arriving Derby at 5 p.m. and 7.1 p.m. respectively.
FORGED PETROL COUPONS FORGED PETROL COUPONS
DUR1NG the past few weeks a L./number of forged petrol coupons has been tendered to garages. The Ministry of Fuel and Power says that, up to the present, these forgeries are concerned with "E " coupons (5 and.3 units), and standard 'anon couponsN.W. series, second month, M.W. series, third month, and L.W. series, third month, all being for 3 "N" units.
All garage personnel are asked to co-operate by ensuring that the index mark and registration number are inserted on all supplementary coupons, and in the case of standard ration coupons, that the ration book is checked to see that it applies to the vehicle being supplied. NEW PROCTOR TRACTOR AND TIPPER CHASSIS 'TWO new models will be introduced I by Proctor Springwood, Ltd., Norwich, at the Commercial Motor Show. The Proctor Mark 11 chassis, employing basically the same units and components used in the Proctor 5-6-ton oil-engined lorry, will be seen with a twin-ram three-way tipping gear. It has a 9-ft. 9-in, wheelbase and an overall frame length of 14 ft. II ins. Like the second new model, an oil-engined tractor, it will incorporate a David Drown five-speed gearbox. In the new models, a detachable cross-member carries the engine front mounting and radiator mounting.
CAN CHILDREN BE MADE TO STAND?
COMMENTING on the rule in force %-# in Manchester that children must stand in corporation buses if adult passengers could not find a seat, Mr. A. C. Baker, general manager of Birmingham's transport undertaking, expressed doubts whether a corporation had the necessary authority to introduce such a rule.
The Midland Red concern has had a similar scheme in operation for some time and it is, apparently, working quite satisfactorily. Notices posted in Southern National" buses also state that children travelling at half fares are not entitled to sit if adult passengers be standing.
WELLWORTHY'S NEW METALBONDING PROCESS AN interesting American process for the bonding of aluminium to iron, steel and other metals is to be employed by Wellworthy Pistons, Ltd., under an exclusive licensing arrangement with the Fairchild Engine -and Airplane Corporation. The process is known as Fairchild's Al-Fin, and Wellworthy will be entitled to sub-license the process.
BIG ORDERS FOR GUY BUSES
AN order for 45 Arab double-deck buses, and 25 single-deckers, has been placed with Guy Motors, Ltd., by Belfast Corporation. This represents a repeat order, and on its completion Belfast will be operating about 150 Guy vehicles. The same company has received an order for 100 Vixen 44on tippers from the South African Government.
R.H.(26) IN FORCE NEXT WEEK THE Road Haulage Central Wages I Board has now issued Order R.IL(26) giving effect, as from September 6, to the amendments of the provisions set out in R.H.(24), in respect of holidays for road haulage workers and statutory wages to be paid. Milk workers are covered by the new Order.
CHANGE OF ADDRESS
A S from September 13, the head1-,quarters of the export licensing branch of the Board of Trade, which is now at Staffordshire House, King William Street, London, E.C.4, will be removed to Regis House, King William Street, London, E.C.4. The telephone number is Avenue 3111.
AUTHORITY ASTOUNDED AT LACK OF EVIDENCE
AN application by Sutton and Co., Ltd., Golden Lane. London, E.C.1, for a variation of its A licence, at its Bristol base, cam: before the deputy Licensing Authority for the Western traffic area at Bristol last week. The application, which, was approved by Messrs. Wild and White, was for the addition of one 2-ton 4 cwt. vehicle for the transport of general goods in Bristol and district.
On behalf of the applicant it was stated that in 1944,46,700 packages were carried, and 65,000 in 1947. For the first six months of this year it was estimated that the number was 34,000. The Authority was also informed that some of the applicant's customers had stated that if the applicant company was unable to collect their goods, Messrs. Wild and White and Messrs. James Express Carriers were ready to do it.
Asked for figures of gross receipts. the applicant's representative was unable to supply them. It was submitted to the Authority that the applicant had failed to make out a case and that the application should be refused.
"1 am more than surprised," said the Authority, addressing the applicant's representative, "that a concern of experience and standing should put up an important application such as this without being properly prepared. It just astounds me. especially when I notice the past history on the files. You leave me no alternative but to refuse the application. If you require an additional vehicle at Bristol, the case should be properly prepared with evidence."
FORD'S BEAT EXPORT TARGET
DURING a recent tour of the Ford Works at Dagenham, Mr. Strauss, Minister of Supply,-said that the company had exceeded the export target which it was set by 5 per cent. during the first seven months of this year. On August 13, the 100,000th Fordson Major tractor produced since March, 1945, passed through the works. The Dagenham factory has now turned out over 300,000 tractors of which 60 per cent, are in use by British farmers.
NEW.. RADIO FOR COACHES DEVELOPED FROM CAR SET -M A NOTHER new coach radio has been
added to those already available. This is the Romac Mellow Truth coach receiver, the sole distributor for which is Romac Industries, Ltd., The Hyde, Hendon, London, N.W.9. A development from the well-known Romac car radio, it provides a suitable installation for commercial vehicles, caravans, mobile canteens and other vehicles.
The receiver has six valves and a dual-ratio, slow-motion drive permitting accurate tuning. Controls are as on the standard Model 107, with the addition of a switch for the operation of a microphone. Speaker distribution allows for one 6i-in. main speaker, two to four extension speakers of 5-in. diameter, and one monitor speaker in the control unit.
Special operational features are a
A30 • • single change-over switch from radio to microphone, and automatic adjustment to the volume cOntrol.
Output is 5 watts, undistorted, and consumption is 3.5 amps, at 12 volts. Voltage can be 6, 12 or 24.
For the home market medium-long waveband coverage is provided, and for export short-medium. Aerials are available according to requirements, i.e., roof, telescopic or under-chassis. Trade price of the set is £25, with extension speakers at fl 5s. each and microphone at £3 3s.
TRAFFIC TO BE DIVERTED FOR ST. LEGER
AS is usual, diversions of publicservice-vehicle routes have been ordered by the Yorkshire Licensing Authority, to reduce traffic congestion in Doncaster during the St. Leger race meeting. From September 8-11 inclusive, vehicles using the Great Nord! Road on express services, which are not required to take up or set down passengers between Bawtry and Ferrybridge, will make a detour extending from those points via Snaith.
Excursions and tonrs running into Doncaster will have special routes only on the Saturday, September 11,, but stage-carriage service diversions in Doncaster will, in some cases, begin on September 7, and will generally apply until the evening of September 11.
AUSTRALIAN TOUR YIELDS GOOD RESULTS
I ARGE orders for Bradford cornI-4 mercial Vehicles have resulted from a recent visit to Australia by Mr. T. E. Gascoyne, who has temporarily left his post as Northern sales manager of Jowett Cars, Ltd., in this country, to make a world tour. Mr. Gascoyne is now in New Zealand, and he will visit the United States and Canada before returning to Britain in December.
Many of the Bradford vehicles exported to Aukralia and New Zealand are being sent in sections for assembly there.
BUS SHELTERS AS MEMORIALS
BUS shelters are to be erected as memorials at sites on or near 19 airfields in Essex, by the Anglo-American Goodwill Association. The airfields were used by the Americans during the war.
CLEARING HOUSE DINNER
THE first anniversary dinner and dance of the London and Home Counties area of the National Conference of Road Transport Clearing Houses will be held on September 11 at the Clarendon Restaurant, Hammersmith, London, W.6.
SOUTH AFRICA BUYING 100 CANADIAN BUSES
A SUM of £629,460 is being spent by CI the South African Railways on 100 Canadian buses. The vehicles comprise 12 37-seaters, fitted with radio and public-address systems, at a cost of £6,269 each, 25 41-seaters at £6,344 each, and 63 41-seaters at £6,279 each.
One of the 41-seaters is to be used on a new service from Cape Town to Durban along the coastal route. The 250 b.h.p. petrol engine is mounted under the body at the rear. The vehicle is said to have a maximum speed of 60-65 m.p.h. and to be able to cruise at 50-55 m.p.h. Some vehicles of this type are already operating in the Cape Peninsula.
BRITISH BUSES IN COPENHAGEN I N addition to the seven Daimler
double-deck buses which, as already reported in "The Commercial Motor," will be in service in Copenhagen during the British Exhibition, to be held from September 18-October 3, there will be an A.E.C. double-decker, a Leyland double-decker and a Maudslay luxury coach.
The 10 machines will travel in convoy overland from Dunkirk. Each bus will have two drivers and two conductors. London Transport is supplying some of the conductor's equipment, together with 200,000 London Transport tickets, overprinted for the Exhibition bus service.
MORE "RED WORMS" FOR 80 PASSENGERS
TWO more "red worms "—articulated buses 54 ft. 10 ins, long and capable of carrying 80 passengers—have been placed in service by the Danish State Railways. Dansk Automobil Byggeri, Leyland agent in Denmark. which designed and built the original "red worm" constructed the new vehicles.
The first machine -incorporated a Leyland tractor chassis, but exchange difficulties prevented the export of complete chassis for the new vehicles, and the tractors were built in the D.A.B. workshops. The buses weigh about 20 tons laden, and all have Leyland 130 b.h.p. direct-injection oil engines. More are expected to be built.
The new vehicles have been place4 in service on the State Railways' busiest route between Copenhagen, Greve Strand and Koge.
MANUFACTURERS' TRAINING SCHEME EXPLAINED
DETAILS of the apprenticeship scheme of Armstrong Siddeley Motors, Ltd., Coventry, have been set out in brief, incisive and attractive form in an illustrated booklet.
The five-year apprenticeship course, it is pointed out, is open to.boys of 16, although younger boys may be admitted as probationers. Applications should be made by parents or guardians, or through school headmasters, to the apprentice supervisor. The company will offer employment to all those successfully completing the apprenticeship, and welcomes letters of inquiry.
Tags
Organisations
:
St. Cuthbert Co-operative Association
,
National Road Transport Federation
,
Ministry of Fuel and Power
,
Institute of Transport
,
School of Transport
,
Scottish Licensing La Authority
,
Licensing Authority for the Western
,
Industrial Transport Association
,
Anglo-American Goodwill Association
,
INSTITUTE OF TRANSPORT WEEK-END CONFERENCE
,
South African Government
,
Durban City Council
,
Yorkshire Licensing Authority
,
BOARD OF TRADE Order
People
:
W. E. Humphreys
,
Monte-Carlo Rally
,
David MacBrayne
,
I. M. Langfier
,
H. Spurrier
,
Strauss
,
T. E. Gascoyne
,
Archibald Prentice
,
H. F. Sanderson
,
F. S. Eastwood
,
H. I. Davidson
,
A. C. Baker