Personal Pars
3rd September 1948
Page 30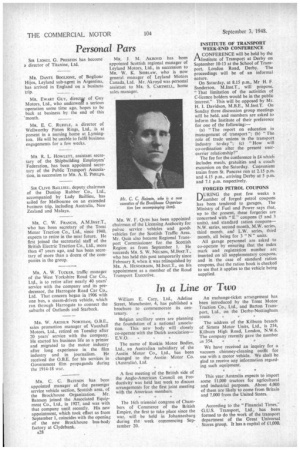 Page 30, 3rd September 1948 —
Personal Pars
Close
SIR LIONEL G. PRESTON has become a director of Titanine, Ltd.
MR. DANTE BOGLIONE, of Boglione Hijos, Leyland sub-agent in Argentina. has arrived in England on a business trip.
MR. EWART Guy, director of Guy Motors, Ltd., who underwent a serious -operation some time ago, hopes to be back at business by the end of this 'month.
lvta. E. C. RUFFLE, a director of Wel[worthy Piston Rings, Ltd., is at present in a nursing home at Lymington. He will be unable to fulfil business engagements for a few weeks.
MR R. L. HowLETT, assistant secretary of the Shipbuilding Employers' Federation, has been appointed secretary of the Public Transpoft Association, in succession to MR. A. E. PITE.Lps.
SIR CLIVE BAILLIEU, deputy chairman of the Dunlop Rubber Co., Ltd., accompanied by Lady Baillieu, has sailed for Melbourne on an extended business trip, including Australia, New Zealand and Malaya.
MR. C. W. FRANCIS, A.M.INST.T., who has been secretary of the Trent Motor Traction Co., Ltd., since 1940, expects to retire in the near future. He first joined the secretarial staff of the British Electric Traction Co., Ltd., more than 47 years ago, and has been secretary of more than a dozen of the companies in the group.
MR. A. W. TUCKER, traffic manager of the West Yorkshire Road Car Co" Ltd., is to retire after nearly 40 years' service with the company and its predecessor, the Harrogate Road Car Co., Ltd. That concern began in 1906 with one bus, a steam-driven vehicle, which ran through Harrogate to connect the suburbs of Oatlands and Starbeck.
MR. W. ARTHUR NORTHAM, 0.B.E., sales promotion manager of Vauxhall Motors, Ltd., retired on Tuesday after 20 years service with the company. He started his business life as a printer and migrated to the motor industry after long experience in the film industry and in journalism. He received the O.B.E. for his services in Government film propaganda during the 1914-18 war.
MR. C. C. BATESON has been appointed manager of the passenger service vehicle section, Scottish area, of the Brockhouse Organization. Mr. Bateson joined the Associated Equipment Co., Ltd., in 1927, and was with that company until recently. His new appointment, which took effect as from September 1, coincides with the opening of the new Brockhouse bus-body factory at Clydebank.
A28
MR. J. M. AKROYD has been appointed Scottish regional manager of Leyland Motors, Ltd., in succession to MR. W. K. SHIRLAW, who is DOW general manager of Leyland Motors Canada, Ltd. Mr. Akroyd was personal assistant to MR. S. CARTMELL, home sales manager.
MR. W. F. QUIN has been appointed chairman of the Licensing Authority for pubnc service vehicles and goods vehicles for the Scottish Traffic Area. Mr. Quin also became Regional Transport Commissioner for the Scottish Region as from September 1. He succeeds MR. S. W. NELSON, tvf.Itgs-r.T., who has held this post temporarily since February 8, when it was relinquished by MR. A. HENDERSON, M.INST.T., on his appointment as a member of the Road Transport Executive.
Tags
People
:
C. C. BATESON
,
W. ARTHUR NORTHAM
,
S. CARTMELL
,
W. F. QUIN
,
LIONEL G. PRESTON
,
E. C. RUFFLE
,
A. W. TUCKER
,
J. M. AKROYD
,
CLIVE BAILLIEU
,
S. W. NELSON
,
A. E. PITE
,
W. K. SHIRLAW
,
C. W. FRANCIS
,
DANTE BOGLIONE
,
A. HENDERSON