The Supply Department.
3rd September 1908
Page 17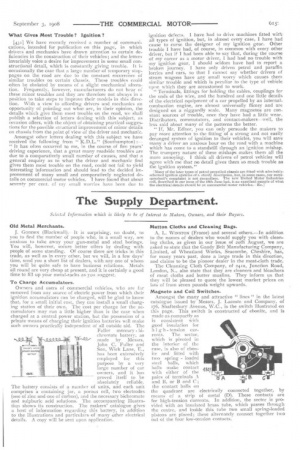 Page 17, 3rd September 1908 —
The Supply Department.
Close
Seleciai Information which is likely to be of Interest to Makers, Owners, and their Buyers.
Old Metal Merchants.
J. GODDEN (Blackwall).It is surprising, no doubt, to you to find the number of people who, in a small way, are anxious to take away your gun-metal and steel borings. You will, however, secure better offers by dealing with people of some standing. Of course there are tricks in this trade, as well as in every other, but we will, in a few days' time, send you a short list of dealers, with any one of whom you will be quite safe to have business relations. Metals all round are very cheap at present, and it is certainly a good time to fill up your metal-racks as you suggest.
To Charge Accumulators.
Owners and users of commercial vehicles, who are far removed from any source of electric power from which their ignition accumulators can be charged, will be glad to know that, for a small initial cost, they can install a small charging station of their own. The cost per charge for the accumulators may run a little higher than is the case when charged at a central power station, but the possession of a private means of charging their ignition batteries will make such owners practically independent of all outside aid. The Fuller mercury bichromate battery, as made by Messrs. John C. Fuller and Son, Wick Lane, E., has been extensively employed for this purpose by a very large number of car owners, and it has proved itself to be
absolutely reliable. The battery consists of a number of units, and each unit comprises a containing jar, a porous cell, two electrodes (one of zinc and one of carbon), and the necessary biehromate and sulphuric acid solutions. The accompanying illustration shows its construction. The makers' catalogue gives a host of information regarding this battery, in addition to the illustrations and particulars of many other electrical details. A copy will be sent upon application. Mutton Cloths and Cleaning Rags.
A. L. WINSTON (Frome) and several others.—In addition to the names of dealers who would supply you with cleaning cloths, as given in our issue of 20th August, we are asked to state that the Gandy Belt Manufacturing Company, Limited, of Wheatland Works, Seacombe, Cheshire, has, for many years past, done a large trade in this direction, and claims to be the pioneer dealer in the meat-cloth trade.
The Cleansing Cloth Company, of 24ta, Junction Road, London, N., also state that they are cleaners and bleachers of meat cloths and butter muslins. They inform us that they will be pleased to quote the lowest market prices on lots of from seven pounds weight upwards.
Magneto and Coil Switches.
Amongst the many and attractive " lines " in the latest catalogue issued by-Messrs. J. Lacoste and Company, of 176, Shaftesbury Avenue, W.C., is the switch illustrated on this page. This switch is constructed of ebonite, and is made as compactly as is consistent with good insulation for hightension currents. The sector, which is pivoted in the interior of the case, is also of ebonite and fitted with two spring loaded steel balls, which balls make contact with either of the pairs of terminals A and B, or B and C the contact balls en the quadrant are electrically connected together, by means of a strip of metal (D). These contacts are for high-tension currents. In addition, the sector is provided with an insulated brass tube, which passes through the centre, and inside this tube two small spring-loaded pistons are placed; these alternately connect together two out of the four low-tension contacts.