News and Comment.
3rd September 1908
Page 10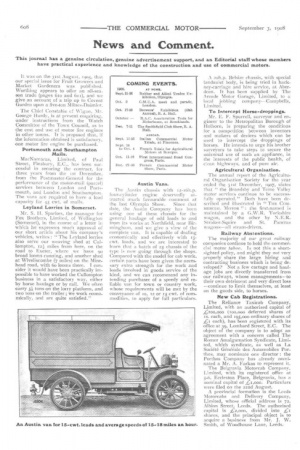 Page 11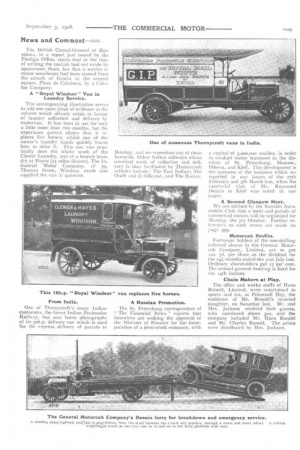 Page 10, 3rd September 1908 —
News and Comment.
Close
This journal has a genuine circulation, genuine advertisement support, and an Editorial staff whose members have practical experience and knowledge of the construction and use of commercial motors.
It was on the 3 Isl. August, 19o5, that our special issue for Fruit Growers and Market Gardeners was published. Worthing appears to offer an all-season trade (pages duo and 611), and we give an account of a trip up to Covent Garden upon a five-ton Milnes-Daimler, The Chief Constable of Wigan, Mr_ George Hardy, is at present enquiring, under instructions from the Watch Committee of the Town Council, as to the cost and use of motor fire engines in other towns. It is proposed that, if the information obtained is satisfactory, one motor fire engine be purchased. Portsmouth and Southampton Mails.
MaeNamaras, Limited, of Paul Street, Finsbury, E.C., has been successful in securing the contract, for three years from the 1st December,. from the Postmaster-Gencral for the performance of the motor-mail (parcel) services between London and Portsmouth, and London and Southampton. The vans are required to have a load capacity for 45 cwt. of mails.
Leyland Lorries in Somerset. Mr. S. H. Sparkes, the manager for Fox Brothers, Limited, of Wellington Somerset), in the course of a letter in which he expresses much approval of oar short article about his company's vehicles, writes : " The Leyland lorries also serve our weaving shed at Cullompton, 12, miles from here, on the road to Exeter, where we have 90 broad looms running, and another shed at Wiveliscombe (7 miles) on the Mine headroad, with 6o looms there. I consider it would have been practically impossible to have worked the Cullompton business in a satisfactory way, either by horse haulage or by rail. We often
carry tons on the lorry platform, and two tons on the trailer ; we work economically, and are quite satisfied."
Austin Vans.
The Austin chassis with 12-16h.1). four-cylinder engine deservedly altracted much favourable comment at the last Olympia Show. Since that date, the Austin Company has been using one of these chassis for the general haulage of odd loads to and from its works at Northfield, near Birmingham, and we give a view of the complete van. It is capable of dealing economically and effectively with 15cwt. loads, and we are interested to learn that a batch of 25 chassis of the type is now going through the shops. Compared with the model for cab work, certain parts have been given the necessary extra strength for the work and loads involved in goods service of the kind, and we can recommend any intending purchaser of a speedy and reliable van for town or country work, whose requirements will be met by the conveyance of to, 12 Or 15 cwt. of commodities, to apply for full particulars. A 20n.p. Belsize chassis, with special tandaulet body, is being tried in hackney-carriage and hire service, at Aberdeen. It has been supplied by The Arcade Motor Garage, Limited, to a local jobbing company—Campbells, J_. united •
To Intercept Horse-droppings.
Mr. E. F. Spurrell, surveyor and engineer to the Metropolitan Borough of Holborn, is preparing the conditions for a competition between inventors and makers of devices which can be used to intercept the droppings of horses, He intends to urge his brother surveyors to take steps to secure the universal use of such an appliance, in the interests of the public health, of clean highways, and of pure air.
Agricultural Organisation.
The annual report of the Agricultural Organisation Society for the year ended the 3 ist December, [907, states that " the Bramisby and Teme Valley motor services continue to be successfully operated." Both have been described and illustrated in " THE COMMERCIAL MOTOR " the first-named is maintained by a GAV.R. Yorkshire wagon, and the other by N.E.R. Straker-Squire and St. Pancras wiigons—all steam-driven.
Railway Abstentions.
The majority of our great railway companies continue to hold the commercial motor taboo. Is not this a shortsighted policy, and might they not very properly share the large hiring and contracting business which is being developed? Not a few cartage and haulage jobs are directly transferred from our railways, whose managements—to their own detriment and very direct loss --continue to limit themselves, at least on the goods side, to horses.
New Cab Registrations.
The Reliance Taxicab Company, Limited, with an authorised capital of ;,6.200,000 (roo,000 deferred shares of is. each, and 195,000 ordinary shares of .L't each), has been registered with its office at 39, Lombard Street, E.C. The object of the company is to adopt an agreement with a concern called The Romer Amalgamation Syndicate, Limited, which syndicate, as well as La Societe Generale des Automobiles Porthos, may nominate one director : the Porthos Company has already nominated a Mr. A. Farkas to represent it.
The Belgravia Motorcab Company, Limited, with its registered office at 5-6, Eccleston Place, Belgravia, has a nominal capital of ,t,000. Particulars were filed on the 22nd August.
A provincial formation is the Leeds Motorcabs and Delivery Company, Limited, whose official address is 72, Albion Street, Leeds. The authorised capital is £211110, divided into Li shares, and the principal object is to acquire a business from Mr. J. W. Smith, of Woodhouse Lane, Leeds.
The British Consul-General at Barcelona, in a report just issued by the Foreign Office, states that at the filni. of writing the taxicab had not made it appearance there, but that a service motor omnibuses had been started from the suburb of Gracia to the central square, Plaza de Cataluna, by a Catalan Company.
A "Royal Windsor" Van in Laundry Service.
The accompanying illustration serves to add one more piece of evidence to the volume which already exists in favour of laundry collection and delivery In motorvan. It has been in use for only a little more than two months, but the experience gained shows that it replaces five horses, whilst one of the owner's laundry hands quickly learnt how to drive it. This one van practically does the whole work of the Clewer Laundry, and of a branch laundry at Hayes (15 miles distant). The Industrial Motor Company, of 59, Thames Street, Windsor, made and supplied the van in question.
From India.
One of Thornycroft's. many Indian customers, the Great Indian Peninsular Railway, has sent home photographs of its 3oh.p. delivery van which is used for the express delivery of parcels in
Bombay, and we reproduce one of these herewith. Other Indian railways whose terminal work of collection and delivery is thus facilitated by Thornycroft vehicles inchde : The Fast Indian ; The Oudh and RThilkund ; and The Burma.
A Russian Promotion.
The St. Petersburg correspondent of " The Financial News " reports that financiers are seeking the approval of the Minister of Finance for the incorporation of a joint-stock company, with a capital of s,000,000 roubles, in order to conduct motor transport in the districts of St. Petersburg, Moscow, Odessa, and Kieff. This development is the outcome of the business which we reported in our issues of the 27th February and 5th March last, when the successful visit of Mr. Raymond Dennis to Kieff was noted in our pages.
A Second Glasgow Meet.
We are advised by the Scottish Automobile Club that a meet and parade of commercaI motors will be organised for Monday, the sth October. Further references to such meets are made on page 599.
Motorcab Profits.
Fortunate holders of the one-shilling deferred shares in the General Motorcab Company, Limited, are to get los. 7d. per share as the dividend for the T44 months ended the 31st July last. Ordinary shareholders get 13 per cent. The annual general meeting is fixed for the 14th instant.
Chain Makers at Play.
The office and works staffs of Hans Renold, Limited, were entertained to sports and tea, at Priestnall Hey, the residence of Mr. Renold's married daughter, on Saturday last. Mr. and Mrs. Jackson received their guests, who numbered above soo, and the company included Mr. Hans Renold and Mr. Charles Renold. The prizes were distributed by Mrs. Jackson.
Tags
Locations
:
Bombay
,
Exeter
,
Metropolitan Borough
,
Aberdeen
,
Kieff
,
Moscow
,
Portsmouth
,
Southampton
,
Barcelona
,
Leeds
,
St. Petersburg
,
Glasgow
,
London
,
Birmingham
,
Windsor
,
Odessa