loads before weights MEP tells RHA
3rd October 1981
Page 4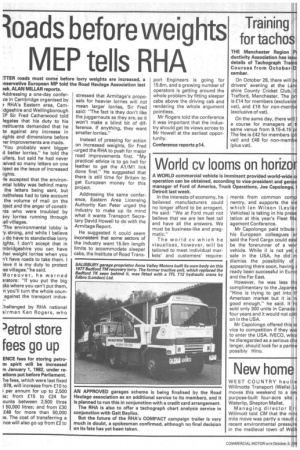 Page 4, 3rd October 1981 —
loads before weights MEP tells RHA
Close
iTTER roads must come befo inservative European MP told mk. ALAN MILLAR reports. Addressing a one-day conferce in Cambridge organised by RHA's Eastern area, Camidgeshire and Wellingborough EP Sir Fred Catherwood told legates that his duty to his nstituents demanded that he te against any increase in iights and dimensions before ler improvements are made. 'You probably want bigger d better lorries," he told the uliers, but said he had never :eived so many letters on one bject as the issue of increased
-le accepted that the environIntel lobby was behind many the letters being sent, but netheless had to take account the volume of mail on the aject and the anger of constitIts who were troubled by 3vy lorries running through all villages.
'The environmental lobby is -y strong, and while I believe J do have to standardise lorry ights, I don't accept that in mbridgeshire you can have her weight lorries when you have roads to take them. I ieve it is my duty to protect se villages."he said.
Moreover, he warned arators: "If you put the big cks where you can't put them, n you'll turn the whole counagainst the transport indus :hallenged by RHA national airman Ken Rogers, who stressed that Armitage's proposals for heavier lorries will not mean larger lorries, Sir Fred said: "The fact is they don't like the juggernauts as they are, so it won't make a blind bit of difference. If anything, they want smaller lorries."
Instead of pressing for action on increased weights, Sir Fred -urged the RHA to push for major road improvements first. "My practical advice is to go hell for leather to get the A1/M1 link done first." He suggested that there is still time for Britain to get European money for this project.
Addressing the same conference, Eastern Area Licensing Authority Ken Peter urged the industry to make up its mind what it wants Transport Secretary David Howell to do with the Armitage Report.
He suggested it could seem inconsistent that some sectors of the industry want 15.5m length limits to accommodate sleeper cabs, the Institute of Road Trans port Engineers is going for 15.6m, and a growing number of operators is getting around the whole problem by fitting sleeper cabs above the driving cab and rendering the whole argument pointless.
Mr Rogers told the conference it was important that the industry should get its views across to Mr Howell at the earliest opportunity.
Conference reports p14.