OUT AND . HOME.
3rd October 1918
Page 20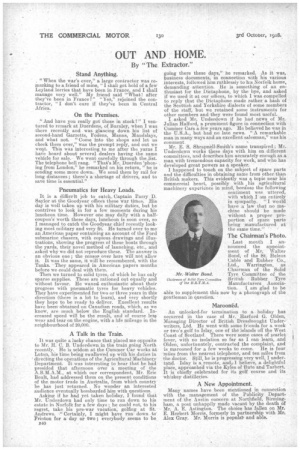 Page 20, 3rd October 1918 —
OUT AND . HOME.
Close
Keywords :
By "The Extractor."
Stand Anything.
, "When the war's overt" a large contractor was remarking to a friend of mine, I shall get hold of a, few Leyland lorries that have been in France and I ihall manage very well." My friend said 'What 1 after they've been in France?" "Yes," rejoined the contractor, "I don't care if they've been in Central Africa.
On the Premises.
"And have you really got those in stock I" I ventured to remark at Duerdens, of Burnley, when I was there recently and, was glancing down his list of second-hand Garretts, Fodens, Manna, Mandala,ys, and what not. "Come into the shops and let us cheek them over," was the prompt reply, and out we weilt. This was interesting to me after the yarns I have heard about • several dealers having the same vehicle for sale. We went carefully. through thelist. The telephone bell rang. "That's Mr. Duerden 'phoning from London," be remarked on his return, 'he is sending seine more down. We send them by rail for long distances; there's a shortage of drivers, and to save time is essential."
Pneumatics for Heavy Loads.
It is a difficrlt job to catch. Captain Parry D. Saylor at the Goodyear offices these war times. His day is well taken up with his military duties, but he contrives to look in for a few moments during his luncheon time. However one may dally with a halfcoupon's worth these days, luncheon is soon over, so I managed to catch the Goodyear chief recently looking most military and very fit, He turned over to me an American paper containing an account of the Ford submarine chasers, with copious drawings and illustrations, showing the progress of these boats through the yards, their novel method of launching, etc., and . asked why we did not reproduce these. The answer is an obvious one ; the censor over here will not allow it. It was the same, it will be remembered, with the Tanks. They appeared in American papers months before we could deal with them.
Then we turned to solid tyres, of which he has only sparse supplies. These are rationed out equally and without favour. he waxed. enthusiastic about their progress with pneumatic tyres for heavy vehicles. They have experimented for two or three years in this direction (there is a lot to learn), and very shortly they hope to be ready to deliver. Excellent results have been Obtained on Canadian roads, which, as we know, are much below the English standard. _Increased speed will be the result, and of course less wear and tear on the engine, with a life mileage in the neighbourhood of 20,000.
A Talk in the Train.
It was quite a lucky chance that placed me opposite to Mr. H. C. B. Underdown in the train going North recently. He is seldom at the goinmer Car works at Luton, his time being swallowed up with his duties in directing the operations cif the Agricultural Machinev Department. It was interesting to hear that he had presided that afternoon over a meeting of the .A.B.M, A.M., at which our correspondent, Mr. Eric Boult, had addressed them on the present conditions of the motor trade in Australia, from which country he has just returned.. No wonder an interested audience eventually bombarded him with questions. Asking if he had yet taken holiday, I found that Mr. Underdown had only time to run down to his estate in Norfolk for a few days ; he could not, to his regret, take his pre-war vacation, golfing at St. Andrews. ," Certainly, I might have run down toFrinton for a day or two ; everybody seems to be
.a40
going there these days," he remarked. As it was, business documents, in connection with his various interests, followed him ruthlessly to his Norfolk home, demanding attention. He is something of an enthusiast for the Dictaphone, by the bye, and asked if we used it at our offices, to which I was compelled to reply that the Dictaphone made rather a hash of the Scottish and Yorkshire dialects of some members of the staff, but we retained some instruments for other members and they were found most useful.
I asked Mr. Underdown if he had news of Mr. Julian Halford, a prominent figure in connection with Cominer Cars a few years ago. He believed he was in the U.S.A., but had no late news. "A remarkable man in many ways and an excellent salesman," was his comment.
Mr. E S. Shrapnell-Smith's name transpired ; Mr. Underdown works these days with him on different committees, and describes him accurately enough as a man with tremendous capacity for work, and. who has developed great powers as a. speaker.
I happened to touch on the subject of spare parts and the difficulties in obtaining same from other than British makers. This evidently was a topic near his, commercial heart, possibly with his agtieultural machinery axperienee in mind, beduse the following sentiment was uttered, with which I am entirely
in sympathy, I would have a law that no machine should be made without a proper proportion of spare parts being manufactured at the same time."
The Chairman's Photo.
Last month I announced the appointment of Mr. Walter Bond, of the St. Helens Cable and Rubber Co., Ltd., Warrington, as Chairman of the Solid Tyre Committee of the British Rubber Tyre Manufacturers Association. I am glad to be able to supplement this now by a photograph of the gentleman in question. •
Mr. Walter Bond,
chairman of lioid T9re comitiee tf the B.E.T.M.A.
• Marooned.
An unlocked-for termination to a holiday has occurred in the case of Mr. Harford G. Olden, Managing Director of British Dreadnought Underwriters. Ltd. He went with some friends for a week or two's golf to Islay, one of the islands off the West Coast of Scotland. There were some eases of scarlet fever, with no isolation so far as I can learn, and Olden, unfortunately, contracted the complaint, and is marooned for a few weeks to come. He is four miles from the nearest telephone, and ten miles from the doctor. Still, he is progressing very well, I undertand. Islay. is a remote, ands I believe, a delightful place, approached via the Kyles of Bute and Tarbert. It is chiefly celebrated for its golf course and its whiskey distilleries.
A New Appointment.
Many names have been mentioned in connection with the management of the Publicity Department of the Austin concern at Northfield, Birmingham, a post unhappily made vacant by the death Of Mr. A. E. Astington. The choice has fallen on Mr. E. Herbert Morris. formerly in partnership with Mr. Alex Gray. Mr. Morris is populai. and able.
Tags
People
:
A. E. Astington
,
E. Herbert
,
Alex Gray
,
Duerden
,
Eric Boult
,
Parry D. Saylor
,
B. Underdown
,
Julian Halford
,
E. Herbert Morris
,
Walter Bond
,
Harford G. Olden