John Mitchell buys 52 trailers
3rd November 2011
Page 9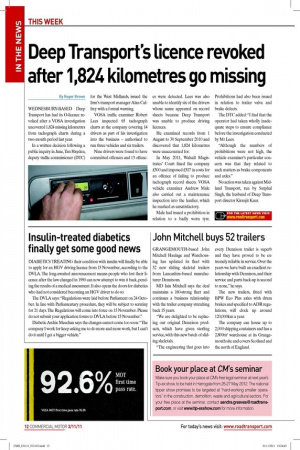 Page 9, 3rd November 2011 —
John Mitchell buys 52 trailers
Close
GRANGEMOUTH-based John Mitchell Haulage and Warehousing has updated its leet with 52 new sliding skeletal trailers from Lancashire-based manufacturer Dennisons.
MD Iain Mitchell says the deal maintains a 160-strong leet and continues a business relationship with the trailer company stretching back 15 years.
"We are delighted to be replacing our original Dennison prod ucts, which have given sterling
. 1 0 5 service, with this new batch of slid
ing skeletals.
"The engineering that goes into every Dennison trailer is superb and they have proved to be extremely reliable in service. Over the years we have built an excellent relationship with Dennison, and their service and parts back-up is second to none," he says.
The new trailers, itted with BPW Eco Plus axles with drum brakes and speciied to ADR regulations, will clock up around 120,000km a year.
The company can house up to 2,000 shipping containers and has a 2,800m2 warehouse at its Grangemouth site and covers Scotland and the north of England.