Hoyer's plan to sell tanker division to GCA falls through
3rd November 2011
Page 8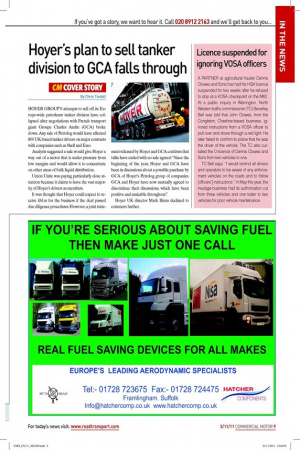 Page 8, 3rd November 2011 —
Hoyer's plan to sell tanker division to GCA falls through
Close
By Chris Tindall HOYER GROUP'S attempts to sell off its Europe-wide petroleum tanker division have collapsed after negotiations with French transport giant Groupe Charles Andre (GCA) broke down. Any sale of Petrolog would have affected 800 UK-based tanker drivers on major contracts with companies such as Shell and Esso.
Analysts suggested a sale would give Hoyer a way out of a sector that is under pressure from low margins and would allow it to concentrate on other areas of bulk liquid distribution.
Union Unite was paying particularly close attention because it claims to have the vast majority of Hoyer's drivers as members.
It was thought that Hoyer could expect to receive £61m for the business if the deal passed due diligence procedures. However, a joint state ment released by Hoyer and GCA conirms that talks have ended with no sale agreed: "Since the beginning of the year, Hoyer and GCA have been in discussions about a possible purchase by GCA of Hoyer's Petrolog group of companies. GCA and Hoyer have now mutually agreed to discontinue their discussions, which have been positive and amicable throughout".
20 ge
Hoyer UK director Mark Binns declined to comment further.