What does the industry think?
3rd November 2011
Page 23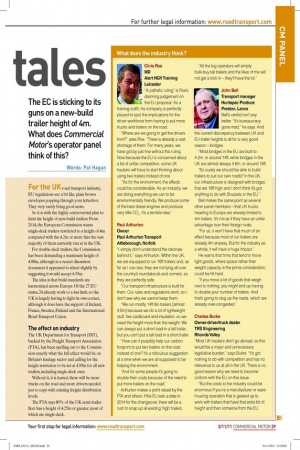 Page 24
Page 23, 3rd November 2011 —
What does the industry think?
Close
Chris Roe MD Alert HGV Training Leicester "A pathetic ruling" is Roe's damning judgement on the EU proposal. As a training outfit, his company is perfectly placed to spot the implications for the driver workforce from having to put more trucks and trailers on the road.
"Where are we going to get the drivers from?" asks Roe. "There is already a vast shortage of them. For many years, we have got by just fine without this ruling. Now because the EU is concerned about a bit of unfair competition, some UK hauliers will have to start thinking about using two trailers instead of one.
'"As for the environment, the effects could be considerable. As an industry, we are doing everything we can to be environmentally friendly. We produce some of the best diesel engines and produce very little CO2. It's a terrible idea."
Paul Arthurton Owner Paul Arthurton Transport Attleborough, Norfolk "I simply don't understand the rationale behind it," says Arthurton. Within the UK, we are equipped to run 16ft trailers and, as far as I can see, they are not lying all over the country's roundabouts and corners, so they are perfectly safe.
"Our transport infrastructure is built for them. Our rules and regulations work, so I don't see why we cannot keep them.
"We run mostly 14ft 6in trailers [almost 4.5m] because we do a lot of lightweight stuff, like cardboard and insulation, so we need the height more than the weight. We can always put a short load in a tall trailer, but you can't put a tall load in a short trailer.
"How can it possibly help our carbon footprint to put two trailers on the road instead of one? It's a ridiculous suggestion at a time when we are all supposed to be helping the environment.
"And for some people it's going to double their costs because of the need to put more trailers on the road." Arthurton makes a point raised by the FTA and others; if the EU sets a date in 2014 for the changeover, there will be a rush to snap up all existing 'high' trailers. "All the big operators will simply bulk-buy tall trailers and the likes of me will not get a look in – they'll have the lot." John Bell Transport manager Huntapac Produce Preston, Lancs Bell's verdict isn't any better. "It's bureaucracy gone mad," he says. And the current discrepancy between UK and EU trailer heights is all for a very good reason – bridges.
"Most bridges in the EU are built to 4.2m, or around 14ft, while bridges in the UK are almost always 4.8m, or around 16ft.
"So surely we should be able to build trailers to suit our own roads? In the UK, our infrastructure is designed with bridges that are 16ft high and I don't think it's got anything to do with Brussels or the EU." Bell makes the same point as several other panel members – that UK trucks heading to Europe are already limited to 4m trailers. It's not as if they have an unfair advantage over their foreign rivals.
"For us, it won't have that much of an effect because most of our trailers are already 4m anyway. But for the industry as a whole, it will have a huge impact." He warns that firms that tend to move light goods, where space rather than weight capacity is the prime consideration, could be hit hard.
"If you move a lot of goods that weigh next to nothing, you might end up having to double your number of trailers. And that's going to clog up the roads, which are already over-congested." Charles Burke Owner-driver/truck dealer TRS Engineering Rhonda Valley "Most UK hauliers don't go abroad, so this would be a major and unnecessary legislative burden," says Burke. "It's got nothing to do with competition and has no relevance to us at all in the UK. There is no good reason why we need to become uniform with the EU on this issue.
"But the costs to the industry could be enormous.If you're a manufacturer or warehousing operation that is geared up to work with trailers that have that extra bit of height and then someone from the EU comes along and says you're not allowed that height any more, well it's just a ridiculous situation.
"It's another example of the EU meddling in our affairs." John Hunt Driver Brian Palmer Haulage Mendlesham, Suffolk "Low trailers are just not competitive for this country," says Hunt.
"We have higher bridges than they do in Europe, so most firms doing EU work already run trailers that meet EU specifications. In that respect, the UK is already complying with these regulations.
"Here at home, we should be able to have whatever trailer height is compliant with whatever roads they are travelling on.
"'Even a flatbed trailer with a load of pallets on is almost 15ft high, so are we in future going to need two trailers instead of one just to deliver a load of empty pallets?" Kevin Brooke Director Recruitment Driven Wakefield, West Yorkshire "I know there are sometimes problems with bridge strikes," says Brooke."But that's almost always due to driver error. Most bridges are very well signposted and probably in 99% of cases, it's the driver's fault, so I share the widespread opposition to this proposal." Brooke believes it's not just hauliers who will be financially hurt by the planned restrictions. He says major firms, such as Sainsbury's and Tesco, have invested vast sums in trailers designed to maximise use of space.
"It would no doubt cost them a fortune if they had to switch to 4m trailers and they would need more drivers too." He feels Britain has done more than its fair share when it comes to compliance with EU directives. It might be time to stop.
"Our record as far as the EU is concerned has been better than most. How many other countries actually comply with their regulations?" The one upside is that, even if the changes do go ahead, it could be another 20 years or so before all existing tall trailers are taken off the road – especially if hauliers opt to refurbish them rather than buy new, shorter ones.
"The danger is that the EU then sets a date for old trailers to be taken off the road. But it can't be too short, five years for example, because trailers have got a far longer shelf life than tractor units." Martin Barnes Project manager Charles Gee and Co East Hunstpill Somerset "This has no benefit to the UK transport industry whatsoever, and the only people who will benefit are EU-based trailer builders," says Barnes, who shares the collective despair at the Commission's proposals.
"I simply don't understand what they are trying to achieve. We already run 4m trailers that go into Europe, but we also have some over 4m that do routes over here. There is nothing to be gained by enforcing this system.
"There is no economic sense to it and no environmental sense to it.
"I wouldn't be surprised if there were a 30% increase in the number of trucks on the road or journeys carried out – carrying the same amount of goods that they are moving now." Ed Pargeter Director EP Training Leatherhead, Surrey "The majority of parcel companies now use double-deck trailers and if they have to change it will put a lot more trucks on the road," warns Pargeter.
"I cannot see any benefits at all. I suppose it might reduce the problem of bridge bashing a certain amount, but to be honest, that's not such a big problem these days, since we now have satellite navigation systems that warn of low bridges.
"I just hope that the UK authorities are able to fight off this proposal. If they put enough effort into it, they should be able to."
Further information
Go to www.fta.co.uk, click on 'policy and compliance', 'roads' and then 'vehicles'.