FORTHCOMING PUBLIC INQUIRIES Eastern/South Eastern Traffic Areas Cambridge
3rd November 2011
Page 19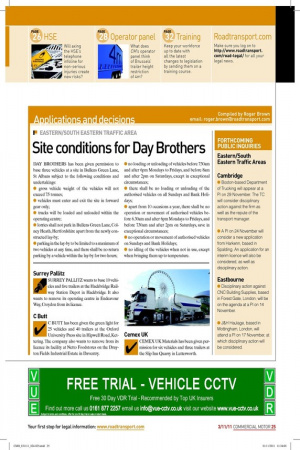 Page 19, 3rd November 2011 —
FORTHCOMING PUBLIC INQUIRIES Eastern/South Eastern Traffic Areas Cambridge
Close
• Boston-based Department of Trucking will appear at a PI on 29 November. The TC will consider disciplinary action against the firm as well as the repute of the transport manager.
• A PI on 24 November will consider a new application from Harkenn, based in Spalding. An application for an interim licence will also be considered, as well as disciplinary action.
Eastbourne
• Disciplinary action against CNC Building Supplies, based in Forest Gate, London, will be on the agenda at a PI on 14 November.
• J&H Haulage, based in Mottingham, London, will attend a PI on 17 November, at which disciplinary action will be considered.