Passenger "Electrics" for Holiday Resorts
3rd November 1944
Page 34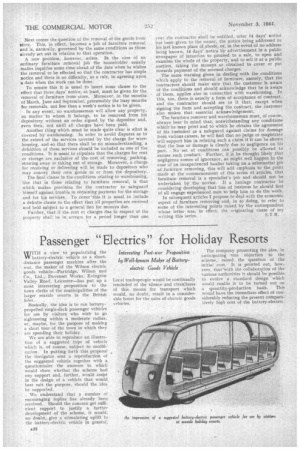 Page 34, 3rd November 1944 —
Passenger "Electrics" for Holiday Resorts
Close
Interesting Post-war Proposition by Well-known Maker of Batteryelectric Goods Vehicle
WITH a view to popularizing the VV battery-electric vehicle as a shortdistance passenger machine after the war, the maker of the Wilson electric goods vehicle—Partridge. Wilson and Co., Ltd., Davenset Works, Evington Valley Road, Leicester—has put up a most interesting proposition to the town clerks of the municipalities of the' larger seaside resorts in the British Isles.
• Basically, the idea is to run battery. propelled single-deck passenger vehicles for use by visitors who wishto go sightseeing within a moderate radius, or, maybe, for the purpose of making a short tour of the town in which they are spending their holiday.
We are able to reproduce an illustration of a suggested type of vehicle which is, of course; sabject to modification. • In prating forth this proposal the instigator sent a reproduction of the suggested vehicle together with a questionnaire the answers to which would show whether the scheme had any support and, further, would assist in the design of a vehicle that would best suit the purpose, should the idea be supported.
. We understand that a number of encouraging replies has already been received. Should the concern get sufficient support to justify a further development of the scheme, it would, no doubt, give a• stimulating uplift to the battery-electric vehicle in general.
Local tradespeople would be continually reminded of the silence and cleanliness of this • means for transport which would, no doubt, result in a considerable boost for the sales of electric goods vehicles. The company promoting the idea, in anticipating 'one objection to the scheme, raised. the question of the initial • cost. It is pointed out, however, that'with the collaboration of the various authorities it should be possible to evolve a standard design which would enable it to be turned out on a quantity-production basis. 'This would have the immediate effect of con-. sidera.bly reducing the present compara-' ti's-ely high cost of the battery-electric.