OLD TIMERS NEW GLORY
3rd May 1986
Page 58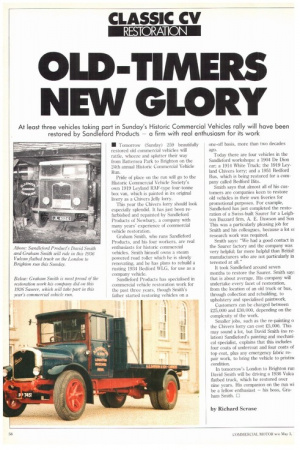 Page 58, 3rd May 1986 —
OLD TIMERS NEW GLORY
Close
At least three vehicles taking part in Sunday's Historic Commercial Vehicles rally will have been restored by Sandleford Products a firm with real enthusiasm for its work
MI Tomorrow (Sunday) 259 beautifully restored old commercial vehicles will rattle, wheeze and splutter their way from Battersea Park to Brighton on the 24th annual Historic Commercial Vehicle Run.
Pride of place on the run will go to the Historic Commercial Vehicle Society's own 1919 Leyland RAF-type four-tonne box van, which is painted in its original livery as a Chivers Jelly lorry.
This year the Chivers lorry should look especially splendid. It has just been refurbished and repainted by Sandleford Products of Newbury, a company with many years' experience of commercial vehicle restoration.
Graham Smith, who runs Sandleford Products, and his four workers, are real enthusiasts for historic commercial vehicles. Smith himself owns a steam powered road roller which he is slowly renovating, and he has plans to rebuild a rusting 1934 Bedford WLG, for use as a company vehicle.
Sandleford Products has specialised in commercial vehicle restoration work for the past three years, though Smith's father started restoring vehicles on a one-off basis, more than two decades ago.
Today there are four vehicles in the Sandleford workshops: a 1904 De Dion car; a 1914 White Truck; the 1919 Leyland Chivers lorry; and a 1951 Bedford Bus, which is being restored for a company called Bedford Bits.
Smith says that almost all of his customers are companies keen to restore old vehicles in their own liveries for promotional purposes. For example, Sandleford has just completed the restoration of a Swiss-built Saurer for a Leighton Buzzard firm, A. E. Dawson and Son This was a particularly pleasing job for Smith and his colleagues, because a lot ol research work was required.
Smith says: "We had a good contact in the Saurer factory and the company was very helpful; far more helpful than Britisl. manufacturers who are not particularly in terested at all."
It took Sandleford around seven months to restore the Saurer. Smith say; that is about average. His company will undertake every facet of restoration, from the location of an old truck or bus, through collection and rebuilding, to upholstery and specialised paintwork.
Customers can be charged between £25,000 and £30,000, depending on the complexity of the work.
Smaller jobs, such as the re-painting o the Chivers lorry can cost £5,000. This may sound a lot, but David Smith (no relation) Sandleford's painting and mechanical specialist, explains that this includes four coats of undercoat and four coats of top coat, plus any emergency fabric repair work, to bring the vehicle to pristiru condition.
In tomorrow's London to Brighton run David Smith will be driving a 1936 Vulca flatbed truck, which he restored over nine years. His companion on the run wi be a fellow enthusiast — his boss, Graham Smith. El
by Richard Scrase