IINEXT WEEK TRUCKFEST REPORT
3rd May 1986
Page 3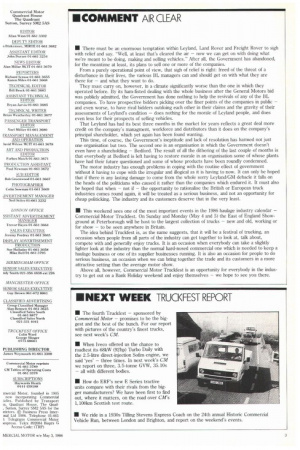 Page 3, 3rd May 1986 —
IINEXT WEEK TRUCKFEST REPORT
Close
• The fourth Truckfest — sponsored by Commercial Motor — promises to be the biggest and the best of the bunch. For our report with pictures of the country's finest trucks, see next week's CM.
• When Iveco offered us the chance to roadtest its 68kW (92hp) Turbo Daily with the 2.5-litre direct-injection Sofirn engine, we said 'yes' — three times. In next week's CM we report on three, 3.5-tonne GVW, 35.10s — all with different bodies.
• How do ERF's new E Series tractive units compare with their rivals from the bigger manufacturers? We have been first to find out, where it matters, on the road over CM's 1,100km Scottish test route.
• We ride in a 1930s Tilling Stevens Express Coach on the 24th annual Historic Commercial Vehicle Run, between London and Brighton, and report on the weekend's events.