TRAINING
3rd May 1986
Page 26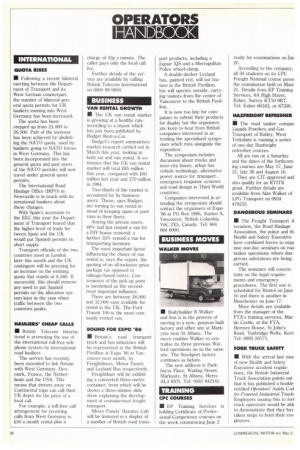 Page 27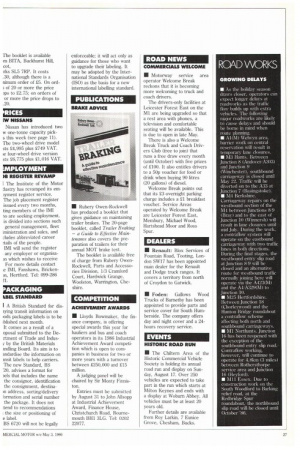 Page 26, 3rd May 1986 —
TRAINING
Close
CPC COURSES • EP Training Services is holding Certificate of Professional Competence courses on the week commencing June 2
ready for examinations on -Jun
According to the company, all 30 students on its CPC Freight National course passe the examination held on Marc 21. Details from EP Training Services, 6A High Street, Esher, Surrey KT10 9RT. Tel: Esher 66183, or 67200.
HAZFREIGHT REFRESHER • The road tanker compar Liquids Powders and Gas Transport of Batley, West Yorkshire is running a series of one-day Hazfreight refresher courses.
All are run on a Saturday and the dates of the forthcoming courses are May 17, June 21, July 26 and August 16.
They are CIT-approved and also qualify for an RTITB grant. Further details are available from Alan Walker of LPG Transport on 0924 478235.
DANGEROUS SUMNARS • The Freight Transport A sociation, the Road Haulage Association, the police and th Health and Safety Executive have combined forces to orga nise one-day seminars on row tanker operations where dangerous substances are being carried.
The seminars will concentrate on the legal requirements and emergency procedures. The first one is scheduled for Bristol on June 10 and there is another in Manchester on June 17.
More details are available from the manager of the PTA's training services, Martin Castle, at the vrA, Hermes House, St John's Road, Tunbridge Wells, Kent Tel: 0892 26171.
FORK TRUCK SAFETY
• With the arrival last mor of new Health and Safety Executive accident regulations, the British Industrial Truck Association points out that it has published a bookie entitled Operators' Safety Cod for Powered Industrial Truck: Employers issuing this to forl truck operators would be abk to. demonstrate that they hay taken steps to brief their employees.
The booklet is available Pm BrrA, Buckhurst Hill, cot,
rks SL5 7RP. It costs ,30, although there is a nirnum order of 25. On ordi of 20 or more the price )ps to 22.75; on orders of or more the price drops to .20.