INTERNATIONAL
3rd May 1986
Page 26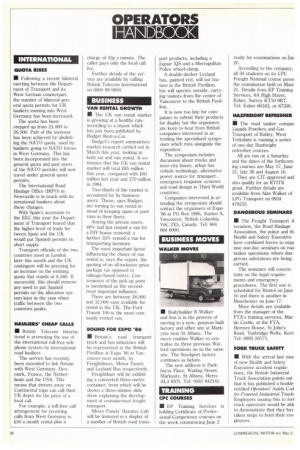 Page 26, 3rd May 1986 —
INTERNATIONAL
Close
QUOTA RISES • Following a recent bilateral meeting between the Department of Transport and its West German counterpart, the number of bilateral general quota permits for UK hauliers running into West Germany has been increased.
The quota has been stepped up from 23,000 to 26,500. Part of the increase has been achieved by abolishing the NATO quota, used by hauliers going to NATO forces in West Germany. This has been incorporated into the general quota and past users of the NATO permits will now travel under general quota permits.
The International Road Haulage Office (IRFO) in Newcastle is in touch with international hauliers about these changes.
With Spain's accession to the EEC this year the Department of Transport feared that the higher level of trade between Spain and the UK would put Spanish permits in short supply.
Transport officials of the two countries meet in London later this month and the UK contingent will be pressing for an increase on the existing quota that stands at 8,560. If successful, this should remove any need to put Spanish permits on the allocation system later in the year when traffic between the two countries peaks.
HAUUERS' CHEAP CALLS • British Telecom International is promoting the use of the international toll-free telephone system by international road hauliers.
The service has recently been extended to link Britain with West Germany, Denmark, France, the Netherlands and the USA. This means that drivers away on Continental trips can call their UK depot for the price of a local call.
For example, a toll-free call arrangement for receiving calls from West Germany is 50 a month rental plus a charge of 42p a minute. The caller pays only the local call fee.
Further details of the service are available by calling British Telecom International on 0800 89 0800,