Greek recompense.
3rd May 1986
Page 16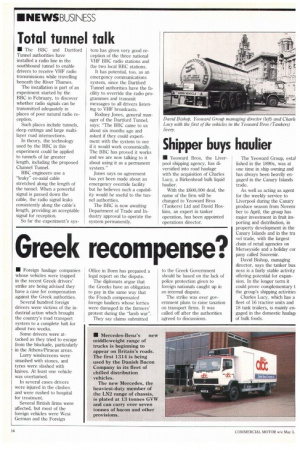 Page 16, 3rd May 1986 —
Greek recompense.
Close
• Foreign haulage companies whose vehicles were trapped in the recent Greek drivers' strike are being advised they have a case for compensation against the Greek authorities.
Several hundred foreign drivers were victims of the industrial action which brought the country's road transport system to a complete halt for about two weeks.
Some drivers were attacked as they tried to escape from the blockade, particularly in the Athens/Piraeus areas.
Lorry windscreens were smashed with stones, and tyres were slashed with knives. At least one vehicle was overturned.
In several cases drivers were injured in the clashes and were rushed to hospital for treatment.
Several British firms were affected, but most of the foreign vehicles were West German and the Foreign Office in Bonn has prepared a legal report on the dispute.
The diplomats argue that the Greeks have an obligation to pay in the same way that the French compensated foreign hauliers whose lorries were damaged in the farmers' protest during the "lamb war".
They say claims submitted to the Greek Government should be based on the lack of police protection given to foreign nationals caught up in an internal dispute.
The strike was over government plans to raise taxation on transport firms. It was called off after the authorities agreed to discussions.