BRS fined £52
3rd May 1986
Page 12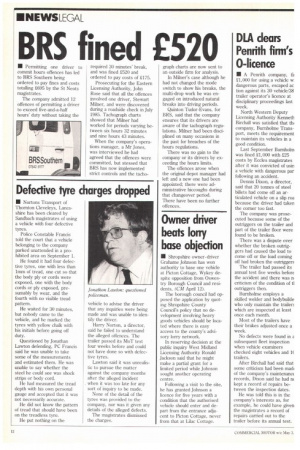 Page 12, 3rd May 1986 —
BRS fined £52
Close
• Permitting one driver to commit hours offences has led to BRS Southern being ordered to pay fines and costs totalling 2695 by the St Neots magistrates.
The company admitted 12 offences of permitting a driver to exceed five-and-a-half hours' duty without taking the required 30 minutes break, and was fined 2520 and ordered to pay costs of 2175.
Prosecuting for the Eastern Licensing Authority, John Rose said that all the offences involved one driver, Stewart Milner, and were discovered during a roadside check in July 1985. Tachograph charts showed that Milner had worked for periods varying between six hours 32 minutes and nine hours 43 minutes.
When the company's operations manager, a Mr Jones, was interviewed he had agreed that the offences were committed, but stessed that BRS has now implemented strict controls and the tacho graph charts are now sent to an outside firm for analysis.
In Milner's case although he had not changed the mode switch to show his breaks, the multi-drop work he was engaged on introduced natural breaks into driving periods.
Quinton Tudor-Evans, for BRS, said that the company ensures that its drivers are aware of the tachograph regulations. Milner had been disciplined on many occasions in the past for breaches of the hours regulations.
There was no gain to the company or its drivers by exceeding the hours limits.
The offences arose when the original depot manager had left and a new one had been appointed; there were administrative hiccoughs during that changeover period. There have been no further offences.