SEEKING WIDER BUS-CONTROL POWERS.
3rd March 1925
Page 23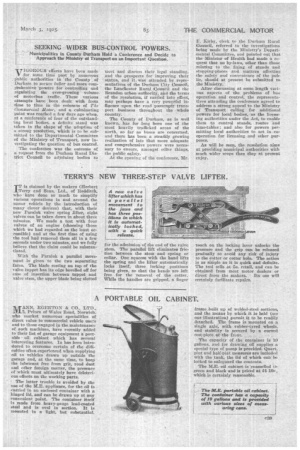 Page 23, 3rd March 1925 —
SEEKING WIDER BUS-CONTROL POWERS.
Close
Municipalities in County Durham Hold a Conference and Decide to Approach the Ministry of Transport on an important Question.
VIGOROUS efforts have been made for SQ11)e time past by numerous Public authorities in the County . of Durham to secure fuller and more-comprebenSive 'powers for controlling and regulating the ever-growing voluble of motorbus traffic. These various attempts have been dealt with from time to time in the columns of The Oonmercial Motor, and a culminating point was reached a few days ago when, at a conferenee of four of the outstanding local bodies, a definite stand was taken in the shape of the adoption of a strong resolution, -which is to be submitted to the Departmental Committee of the Ministry of Transport, now investigating the question of bus control.
The conference was the outcome of a request from the Durham 'Rural Disttiet Council to adjoining bodies to
meet and discuss their legal standing, And the -prospects for improving their status; and it. was attended by representatives of the Durham City Council. the Lanclester Rural, Council and the Brendan urban authority, and the terms of the resolution, if carried into effect, may perhaps have a very powerful influence upon the road passenger transPort business throughout the whole country.
The County of Durham, as is •well known, has for long been one of the most heavily trafficked areas of the north, so far as buses are concerned, and there has been a steadily growing realization of late that -more adequate and comprehensive powers were necessary to ensure, amongst alter things,
the public safety. .
At the opening of the conference, Mr.
F. Kirby, clerk to the Durham Rural Council, referred to the investigations being made by the Ministry's Departmental Committee, and pointed out that the Minister of Health had made a reqiiest that no by-laws, other than those relating to the fixing of stands and • stopping-places and matters affecting the safety and convenience of the public, should at present be submitted to the Ministry.
After discussing at some length various aspects of the problems of bus operation' and control, the representatives attending the conference agreed to address a strong appeal to the Ministry of Transport calling for additional powers for local bodies, as the licensing authorities under the Act, to enable them to control stands, routes and time-tables ; and also for powers permitting local authorities to act in cooperation for licensing and other purposes.
As will be seen, the resolution aims at providing municipal authorities with much wider scope than they at present enjoy.