AN EFFICIENT AMBULANCE SERVICE.
3rd March 1925
Page 15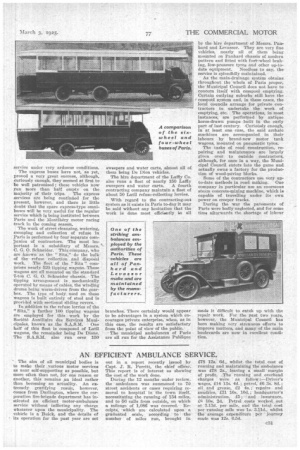 Page 15, 3rd March 1925 —
AN EFFICIENT AMBULANCE SERVICE.
Close
The aim of all municipal bodies is to make their various motor services as near self-supporting as possible, but more often than not, for one reason or another, this remains An ideal rather than becoming an actuality. An extremely gratifying result, however, comes from Darlington, where the corporation fire-brigade department has instituted an efficient motor-ambulance service without inflicting any charge wherever upon the municipality. The vehicle is a Buick, and the details of its operation for the past year are set out in a report recently issued by Capt. J. R. Porritt, the chief officer. This report is of interest as showing the cost of the work done.
During the 12 months ,under review, the ambulance was summoned to 70 street accidents or cases requiring removal to hospital in' 'Elie toWn. itself, necessitating the running of 154 miles, and to 56 calls frem outside, on which: a mileage' of 1,084 was covered.. Receipts, 'which • are calculated upon ii graduated scale, e according to the number of miles run, brought in £7.8 12s. 6d., . whilst the total cost of running and maintaining the ambulance was £.78 2s.,. leaving a small 'margin of profit. .The. running and overhead charges were " as follow :—Driver's wages, £14 13s. 4d.; petrol,' £6 8s. Sd.; oil, and grease, £2 4s.; repairs and Sundries, -£31 10s. 10d.,;headquarter's administration, £5; — Encl. • insurance, IS 10e, 2d. Petrol .eosts workedeout at -3.12d. • per mile,, and the, Wee cost per renning mile was 1s. 3.11d., whilst the average. expenditure per • jonrney made was 12s. 6.5d.