Quarry drivers censured for fiddling their hours
3rd July 2003
Page 21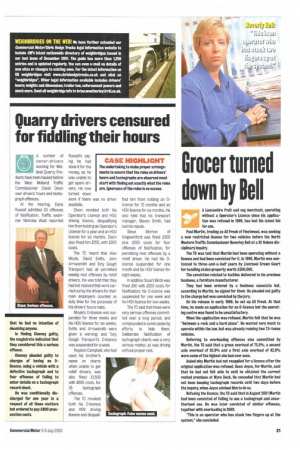 Page 21, 3rd July 2003 —
Quarry drivers censured for fiddling their hours
Close
A number of owner-drivers working for Midland Quarry Products have been hauled before the West Midland Traffic Commissioner David Dixon over drivers' hours and tachograph offences.
At the hearing, Dane Russell admitted 20 offences of falsification, Traffic examiner Nicholas Wust reported Russell's saying he had done it for the money, as he was unable to get spare drivers. He now turned down work if there was no driver available.
Dixon revoked both his Operator's Licence and HGV driving licence, disqualifying him from holding an Operator's Licence for a year and an HGV licence for six months. Dixon also fined him £700, with £300 costs.
The TC heard that Alan Moule, David Evitts, John Arrowsmith and Tony Gough Transport had all permitted weekly rest offences by relief drivers. He was told that they had not realised that work carried out by the drivers for their main employers counted as duty time for the purposes of the drivers' hours rules.
Moule's 0-licence was suspended for three weeks and his HGV licence for six weeks; Evitts and Arrowsmith were given a warning; and Tony Gough Transport's 0-licence was suspended for a week.
Royston Campbell, who had used his brother's name on charts when unable to get relief drivers, was also fined £1,500 with £695 costs, for 35 tachograph offences, The TC revoked both his 0-licence and HGV driving licence and disquali
fled him from holding an 0licence for 12 months and an HGV licence for six months. He also held that his transport manager, Steven Smith, had lost his repute.
Steve Morton of Kingswinford was fined £300 plus £200 costs for four offences of falsification, for permitting rest offences by a relief driver. He had his 0licence suspended for one month and his NOV licence for eight weeks.
In addition Stuart Birch was fined £50 with £200 costs for falsification: his 0-licence was suspended for one week and his HGV licence for two weeks.
The TC said that these were very serious offences committed over a long period, and compounded in some cases by efforts to hide them. Deliberate falsification of tachograph charts was a very serious matter, as was driving without proper rest.