AXLE/VEHICLE OVERLOADING
3rd July 2003
Page 20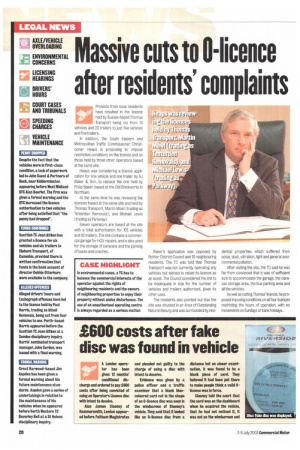 Page 20, 3rd July 2003 —
AXLE/VEHICLE OVERLOADING
Close
Mi ENVIRONMENTAL LIUCONCERNS
LICENSING HEARINGS gra DRIVERS' 110-11 HOURS COURT CASES AND TRIBUNALS SPEEDING CHARGES VEHICLE MAINTENANCE
PEAR MEWED
Despite the fact that the vehicles were in first-class condition, a lack of paperwork led to John Guest & Partners of Rock, near Kidderminster, appearing before West Midland DTC Alan Bouriet. The firm was given a formal warning and the DTC increased the licence authorisation to two vehicles after being satisfied that the penny had dropped".
FUNDS CONFIRMED
Scottish TC Jean Aitken has granted a licence for six vehicles and six trailers to Cloburn Transport, of Canonbie, provided there is written confirmation that funds in the bank account of director Debbie Otterburn were available to the company.
ALINED OFFENCES
Alleged drivers' hours and tachograph offences have led to the licence held by Paul Harris, trading as Athol! Removals, being cut from four vehicles to one. Perth-based Harris appeared before the Scottish IC Joan Aitken at a Dundee disciplinary Inquiry. Harris' nominated transport manager, John Gordon, was Issued with a final warning.
FORMAL WARNING
Great Harwood-based Jim Aspitien has been given a formal warning about his future maintenance standards. Aspden gave a series of undertakings in relation to the maintenance of his vehicles when he appeared before North Western IC Beverley Bell at a St Helens disciplinary inquiry.