Euro fines
3rd July 1982
Page 7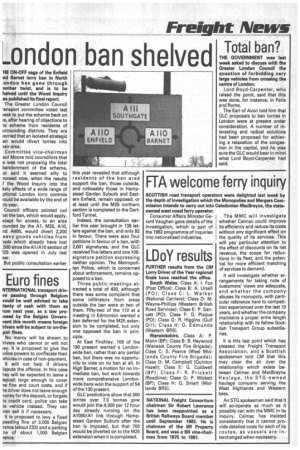 Page 7, 3rd July 1982 —
Euro fines
Close
NTERNATIONAL transport drivTs passing through Belgium would be well advised to take plenty of cash with them as rom next year, as a law proposed by the Belgian Governnent this month means foreign 'rivers will be subject to on-thepot fines.
No mercy will be shown to 'rivers who cannot or will not ■ ay. It is proposed to give the olice powers to confiscate their ehicles in case of non-payment. It will not help if drivers lispute the offence. In this case ley will be expected to leave a leposit large enough to cover he fine and court costs, and if he driver does not leave enough loney for the deposit, or forgets is credit card, police can take is vehicle instead. They can yen sell it if necessary.
It is proposed to levy a fixed peeding fine of 3,000 Belgian rancs (about £33) and a parking ne of about 1,000 Belgian rancs.