RHA aims for November
3rd July 1982
Page 4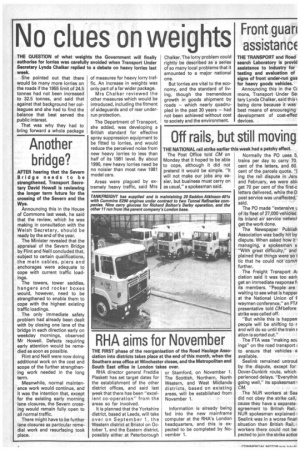 Page 4, 3rd July 1982 —
RHA aims for November
Close
THE FIRST phase of the reorganisation of the Road Haulage Association into districts takes place at the end of this month, when the Southern area office at Winchester closes, and the Metropolitan and South East office in London takes over.
RHA director general Freddie Plaskett has set target dates for the establishment of the other district offices, and said last week that there has been "excellent co-operation" from the areas so far involved.
It is planned that the Yorkshire district, based at Leeds, will take over on September 1, the Western district at Bristol on October 1, and the Eastern district, possibly either at Peterborough or Stamford, on November 1. The Scottish, Northern, North Western, and West Midlands districts, based on existing areas, will be established from November 1.
Information is already being fed into the new mainframe computer at the RHA's London headquarters, and this is expected to be completed by November 1.