No clues on weights
3rd July 1982
Page 4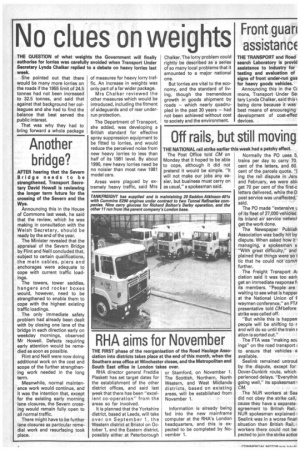 Page 4, 3rd July 1982 —
No clues on weights
Close
THE QUESTION of what weights the Government will finally authorise for lorries was carefully avoided when Transport Under Secretary Lynda Chalker replied to a debate on heavy lorries last week.
She pointed out that there would be many more lorries on the roads if the 1955 limit of 24.5 tonnes had not been increased to 32.5 tonnes, and said that against that background her colleagues and she had to find the balance that best served the public interest.
That was why they had to bring forward a whole package of measures for heavy lorry traffic. An increase in weights was only part of a far wider package.
Mrs Chalker reviewed the other measures which would be introduced, including the fitment of sideguards and of rear underrun protection.
The Department of Transport, she added, was developing a British standard for effective spray suppression equipment to be fitted to lorries, and would reduce the perceived noise from new heavy lorries to less than half of its 1981 level. By about 1990, new heavy lorries need be no noisier than most new 1981 model cars.
Areas were plagued by extremely heavy traffic, said Mrs Chalker. The lorry problem could rightly be described as a series of so many local problems that it amounted to a major national one.
But lorries are vital to the economy, and the standard of living, though the tremendous growth in goods shipment by roads — which nearly quadrupled in the past 30 years — had not been achieved without cost to society and the environment.